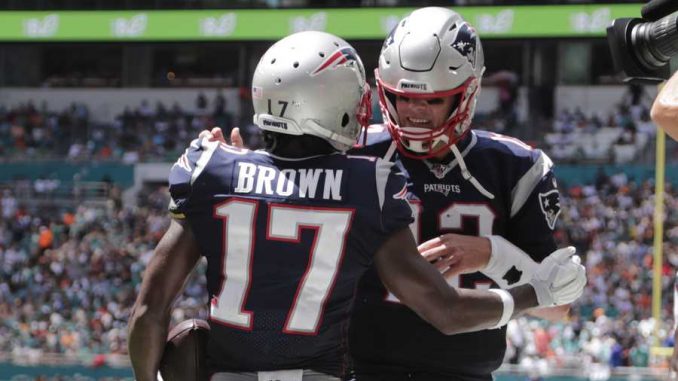 Colin Maruscsak, Staff Writer
In recent news regarding the NFL, Antonio Brown took the field for the New England Patriots on Sunday as they squared off against their division rival, the Miami Dolphins. There was speculation of whether or not Brown would be allowed to suit up, as he was recently accused of sexual assault against his former trainer, Brittney Taylor.
On Tuesday, September 10, Taylor filed a lawsuit against Brown in the Southern District of Florida. Her allegations bring up incidents that go all the way back to 2017. She states in the report that in 2017, Brown exposed himself and kissed her without consent. Later, she mentions how in May 2018, after a night out, she went back to Brown's house to use the restroom and grab a bite to eat before he "forced her down onto a bed, pushed her face into the mattress and forcibly raped her." Brown's lawyer made a statement Tuesday night saying that the two of them were in a "consensual personal relationship," and that "any sexual interaction with Mr. Brown was entirely consensual," in regards to Taylor.
Brown was traded to the Oakland Raiders during the offseason and was let go less than a week prior to these allegations and eventually signed with the New England Patriots. People flocked towards the Patriots head coach, Bill Belichick, asking for comments on the situation and if they would play him during the game against the Miami Dolphins. Belichick's only comment was that the Patriots are taking things one day at a time.
The main question was if Antonio Brown was going to be placed on the commissioner's exempt list, which would mean that Brown would not be allowed on the Patriots active roster while the investigation went on, preventing him from playing. However, that was not the case since there was no criminal investigation involving Antonio Brown at the time. Brown's lawyer has told reporters that "he [Brown] has not been in contact with the league about the lawsuit."
Brown met Taylor during his time at Central Michigan where he went to college. The two met and became friends going to bible groups together before eventually falling out of touch. They reconnected in 2017 when Brown hired her to assist with his physical training. Taylor claims their relationship had been "a brother-sister type" and had always acted in line with that.
Regardless, we will wait and see what the league decides to do with this matter as they have begun to investigate and interview both Brown and Taylor. In the meantime, Brown will remain with New England and hopes to repeat his performance from his first game with them where he hauled in four catches for 56 yards and one touchdown.