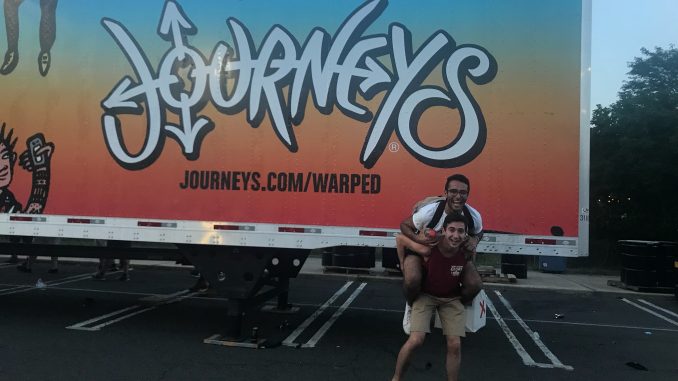 Talia Bautista, Contributing Writer |
This week's DJ Spotlight tunes in to WONY's two current longest broadcasting members. Dillon Selvaggi and Joey Tagarelli, known over the airwaves as Dil and JT, have been DJs since their freshmen year. Both from Hawthorne NY, the two came to Oneonta and found themselves drawn to the radio station. For upwards of three years, the duo has co-hosted "~.00023 of a Year W/ Dil & JT," a show that has many times morphed and grown alongside its hosts. Starting as a mostly music-based program, it has evolved into a two-hour block of tunes and talk. They focus on introducing new, undiscovered artists, chatting about video games and other media related news, and just having a good time.
Dillon is a dual major in mass communications and music industry, and is the station's current General Manager. He has previously held the positions of training director and program director. He currently looks forward to spending the summer interning for a second time at Sirius XM, in hopes to work in podcasting and audio entertainment. His favorite flavor of ice cream is rum raisin.
Joey is a mass communications student with a concentration in production and is the program director for WONY 90.9 FM. He has previously held the position of Public Relations director in his junior year. He is also the President of Oneonta Film Club and hopes to work in media production, taking the skills learned from WONY with him. His favorite flavor of ice cream is mint chocolate chip.
Both have rose through the ranks, and stuck with WONY as it has become not just a club, but a huge part of their lives. Although they are sad to be signing off for the last time at the beginning of May, they are confident that they will always be able to come back at any time, and feel at home.
Tune in to the last few shows of "~.00023 of a Year W/ Dil & JT" Wednesday's from 10 p.m. to midnight.
Interested in joining WONY? Contact Angie, our Training Director, at [email protected] and don't forget to Keep It Locked!