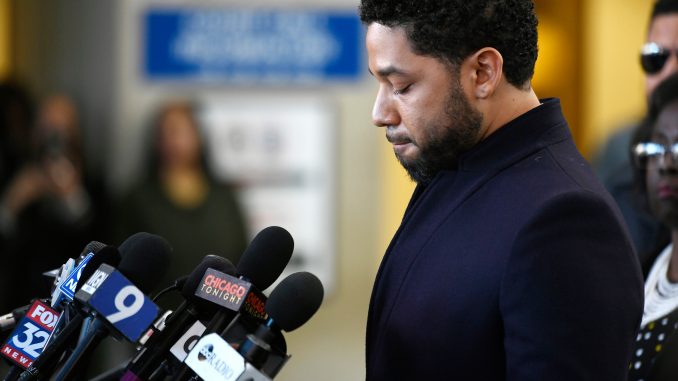 Katie Hebert, Staff Writer |
"Empire" star Jussie Smollett has been continuously in headlines recently after being the victim of a framed hate crime. However, the case has come to a close as prosecutors drop all charges against Smollett, after being falsely accused of organizing a hate crime and filing a false report.
This story started back in January when CBS News shared that on Jan. 29 "Smollett, 36, says he was attacked near his Chicago apartment. Smollett says two men approached him around 2 a.m., shouted 'racial and homophobic slurs,' poured an 'unknown chemical substance' on him and wrapped a noose around his neck." This attack came a week after multiple threatening letters were received by Smollett, including homophobic rhetoric and Trump's "Make America Great Again" slogan.
The day after the reported attack, Chicago Police Department released a photo of two suspects, caught by a surveillance camera, "noting that the attack itself was not captured." What caused suspicion was the discovery of Smollett paying the suspects, the Osundairo brothers, money to frame the attack. After some deeper investigation, CBS reports that on Feb. 20, "The Cook County, Illinois, state attorney files a felony disorderly conduct charge against Smollett for allegedly filing a false report. This is announced soon after Chicago police confirm Smollett is a suspect in a criminal investigation." As the case went on, Smollett was charged with 16 felony counts, pleading not guilty.
As of March 26, the charges against Smollett were dropped, with CNN reporting this as "a development that his attorneys hailed as vindication but angered top city officials who still are calling his victimhood claim a hoax." CBS shares that "state prosecutor Joe Magats, who made the decision to drop the charges, still believes Smollett is guilty. He says his office needs to focus on violent crimes, and that he feels Smollett had done enough to 'wipe this clean.'"
Many people have been actively taking to social media to stay updated on the case but also share the many mixed emotions that this story has brought about. One twitter user, @GavinHumble, retweeted the CNN article about the dropped charges, writing, "Congratulations, Chicago, for showing the rest of the county what a joke your justice system is. #jussiesmollet". Another twitter user, @Vinnie_isracist, said, "A certain group of people are crying their eyes out about this #jussiesmollet thing. They hate that a gay black man isn't being crucified."
Many are angry at how quick the Chicago Police Department was to investigate Smollett for lying, perpetuating the criminal justice system's blatant racism and homophobia, while many are distressed at how a fake story gained so much attention when marginalized communities are under attack every day and do not gain the same amount of media coverage. It's also important to analyze why Smollett might have even organized this false attack in the first place.