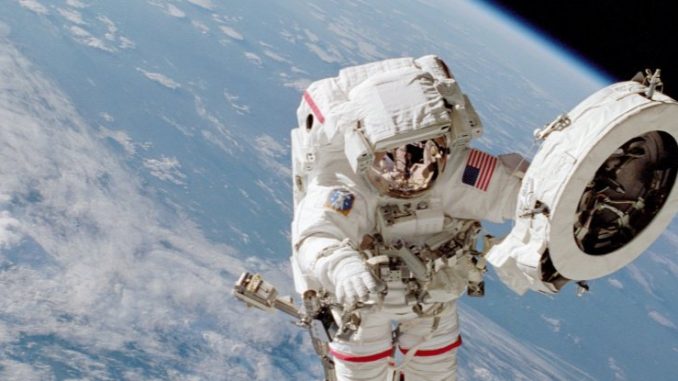 Tara O'Leary, Staff Writer |
NASA was set for its first ever all-female spacewalk to take place on Friday, March 29, but earlier that week, plans changed. A spacesuit had not been prepared for astronaut Anne McClain, and it was decided that Nick Hague would take her place.
In order to complete work on the International Space Station, a series of three spacewalks are taking place. The first was conducted on March 22 by McClain and Hague. McClain was scheduled to go up a second time with Christina Koch, which would have been the first time two female astronauts were scheduled to do a spacewalk together. NASA hadn't intended on teasing the opportunity to make history, as it wasn't until after McClain and Koch were paired together that they realized the significance of this duo.
However, NASA ran into a problem when they found out that only one medium sized spacesuit was ready to be worn. Of their two medium sized suits, only one had been configured for the spacewalk. "Based [on] her experience in the first spacewalk in the series, McClain determined that although she has trained in both medium and large torsos, the medium, which she wore last Friday during the spacewalk, was a better fit for her in space," NASA spokeswoman Stephanie Schierholz wrote in an email to NPR. "When you have the option of just switching the people, the mission becomes more important than a cool milestone."
The decision was made to allow Koch to wear the medium sized spacesuit, sending her on the upcoming mission with an astronaut of a different size. Former spacesuit engineer, Lindsay Aitchison, added her expertise, stating, "You never know which one is going to work out better until you're actually in space." She also reported that people can sometimes grow up to two inches once they're out in space and that growth can't be predicted. While McClain was trained in both medium and large sized suits, it was important that she used the one that she felt fit her best. "The reason spacesuit fit is so important for you is that, if you think about, it is like any other piece of protective equipment that you're going to wear," said Aitchison. "If it doesn't fit you well, it's not going to protect you well. And that's really important, because your spacesuit really is its own spacecraft. Everything that you have inside of the space station to protect you has to all be shrunk down and miniaturized perfectly to fit your body when you're outside doing your work."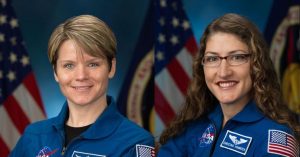 This isn't the first time that NASA has had issues with suit sizes. In the 1990s, budget pressures limited their sizing to just medium, large, and extra-large, completely getting rid of the small size option. A study conducted in 2003 discovered that eight of the 25 female astronauts couldn't find a spacesuit that fit them. While NASA is planning to accommodate more sizes in the future, writer Meg Urry called them out for their lack of spacesuits fit for women. "Some might worry we can't afford the expense or storage space for 'extra' sizes. But we can't afford not to utilize the talent that comes in non-male-standard sizes. Even the word 'extra' implies that there is a norm, and that women aren't it. Let's normalize difference."
Both McClain and Koch have still been involved in the three-part series, making them the thirteenth and fourteenth women to perform a spacewalk. While the pairings have been shifted, the mission itself was unchanged. Selected astronauts ventured outside of the space station, located more than 200 miles from Earth, and performed a six-hour installation of lithium-ion batteries to help power the research laboratory. These batteries store solar power that the station will need when it is not in direct sunlight. Astronauts allow robots to do as much of the work as possible before they take the risk of going into space. McClain is currently scheduled to be a part of the missions' third spacewalk with David Saint-Jacques on April 8.
While it would have been fitting for the first all-female spacewalk to take place during Women's History Month, NASA is hopeful that there will be another opportunity for history to be made. "There's going to be a time for women to take spacewalks together as an all-female crew," Aitchison stated. "If you look at our most recent ASCAN [astronaut candidate] class, five of the 11 selectees were women." Out of NASA's 38 active astronauts, 12 are currently female.