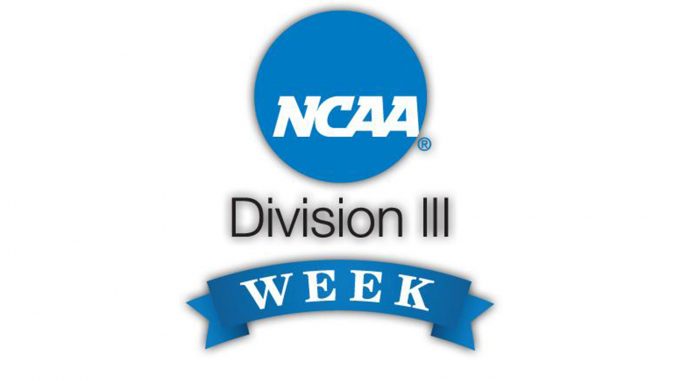 Samantha Brandifino, Contributing Writer 
NCAA Division III Week is approaching and is set to take place from April 1 to April 7.  SUNY Oneonta will once again participate in this annual event and celebrate the exciting week.  Division III Week coincides with NCAA's National Student-Athlete Day. The Red Dragons will be hosting events during Division III Week and will recognize National Student-Athlete Day on April 6.
The purpose of NCAA's Division III Week is to give those associated with Division III sports teams, colleges, and universities the chance to celebrate, observe, and appreciate the impact athletics and student athletes have on their communities and campuses.
All Division III institutions are encouraged to participate in outreach activities that highlight student athletes' academic accomplishments, their athletic experiences, and/or their leadership, community service and campus involvement.
Seaver Lipshie, a senior on the women's soccer team, says she enjoys this week because it takes the time to appreciate all sport teams-not just to reflect on her own team, but every team. "It's great to see all the athletes from every sport come together for a common purpose," Lipshie said.
The Red Dragons have participated in Division III week every year since it was established by the NCAA in 2010.  In addition to the many activities that highlight the athletic and academic success, athletes are involved in "CANstruction," an event designed to support the community by building structures out of canned foods that will later be donated to local food banks. The creativity, ingenuity, and designs of our student athletes are impressive. This year they will be recreating Red Dragon Field for the event contest.
Chi Alpha Sigma is a nonprofit organization established to recognize college student athletes. Those who are of junior academic standing and who have earned a varsity letter in at least one sport while maintaining a 3.4 or higher cumulative GPA are inducted. This year's class includes 39 student athletes along with Honorary Inductee Dr. William Vining, a professor of Chemistry. Women's soccer coach Liz McGrail says the induction ceremony and dinner is her favorite part of the week. She also stated that she is excited to see Division III Week grow each year.
The entire campus community gets involved in Division III Week. The week helps build an overall appreciation and greater awareness of Division III athletics. It is designed to recognize that Division III student athletes are following their passion and developing their potential by combining challenging academics, competitive athletics, and extracurricular activities that allow them to pursue other outside interests in addition to sports.
We are proud of our Division III Red Dragon Athletes! SUNY Oneonta will be celebrating Division III Week shortly. So, come on out and show your support throughout the week.  The complete schedule for the week is posted on oneontaathletics.com.