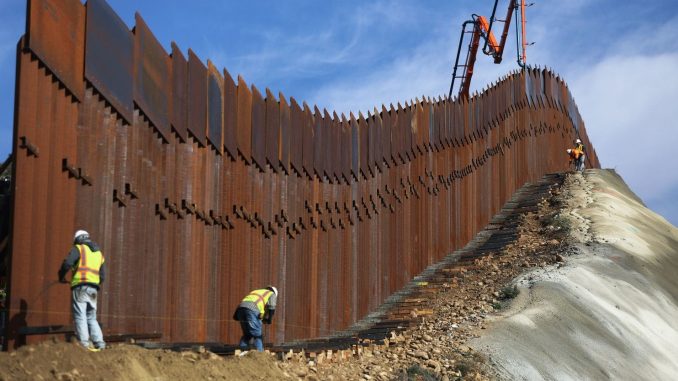 Casey McShea, Staff Writer |
President Donald Trump declared a national emergency last Friday in order to unlock billions of dollars in federal funding for his long-promised wall on the southern U.S.-Mexico border, overriding Congress after lawmakers refused to meet his multi-billion dollar request for border wall funds. The national emergency gives the president special powers to take taxpayer dollars from other budgets to pay for a border wall construction, but even Trump admitted his move will face legal challenges.
"We are going to have a national emergency, and then we will be sued, and they will sue us in the ninth circuit, even though it shouldn't be there, and we will possibly get a bad ruling, and then we'll get another bad ruling, and then we'll end up in the Supreme Court, and hopefully we'll get a fair shake, and we'll win in the Supreme Court," he said in what some have dubbed a "sing-song voice."
Under a national emergency, the president can take advantage of dozens of specialized laws. Some of these powers have funds the president otherwise could not access. Past presidents have declared national emergencies, but none have used a national emergency to override Congress' funding decisions.
Trump and top officials from his administration have argued for weeks that there is a "crisis" on the southern border, but during his address in the White House Rose Garden, Trump said, "I could do the wall over a longer period of time. I didn't need to do this, but I'd rather do it much faster." Many have pointed out that this proves that there is no actual emergency.
The announcement has led California, New York, and 14 other states to file lawsuits challenging Trump's national emergency declaration, according to California Attorney General Xavier Becerra.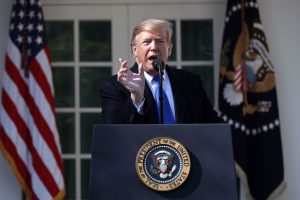 "The president admitted that there's not a basis for the declaration. He admitted there's no crisis at the border. He's now trying to rob funds that were allocated by Congress legally to the various states and people of our states," Becerra told MSNBC. "The separation of powers is being violated, we're going to go out there and make sure that Donald Trump cannot steal money from the states and people who need them, since we paid the taxpayer dollars to Washington, D.C., to get those services."
Democrats and Republicans alike have criticized the move. Republicans have been split on the issue, some fully backing Trump and others cautioning that allowing an emergency declaration now would set a precedent for future presidents to do the same. Maine Republican Senator Susan Collins called Trump's move a "mistake" and argued that "such a declaration would undermine the role of Congress and the appropriations process."
Some comedians took it upon themselves to mock the declaration. Alec Baldwin once again donned his Trump persona on last week's episode of "Saturday Night Live," declaring mockingly, "So you can all see why I gotta fake this national emergency, right? I have to because I want to." He finished the cold open with, "In conclusion, this is a total emergency, a five-alarm blaze. Which means I've got to go to Mar-a-Lago so I can play some golf," referencing the president's immediate trip to his Florida vacation home after the emergency declaration. "Last Week Tonight" host John Oliver also joked about this saying, "He responded to this newly declared emergency by just hours later flying off to Florida for the weekend, where he's apparently being photographed waiting at an omelette bar. You know, the kind of thing you do when America is in crisis."
"SNL" anchors, Colin Jost and Michael Che, continued to discuss the issue during "Weekend Update," with Che reporting, "I'm so tired of telling Donald Trump jokes. We've been making fun of this dude and his dumb—ss wall for so long. I've got to be honest, now I kind of want to see the wall. I've never seen anybody so confident of such a bad idea. […] I'm not saying that we should let him build the wall, but what if we just let him do a PowerPoint presentation or a dramatic re-enactment? I just want to see exactly what Trump thinks is going to happen when a Mexican cartel sees a wall. What do you think they're going to do, just shake their fists and walk home?"
Trump responded to the episode, tweeting, "Nothing funny about tired Saturday Night Live on Fake News NBC! Question is, how do the Networks get away with these total Republican hit jobs without retribution? Likewise for many other shows? Very unfair and should be looked into. This is the real Collusion!"