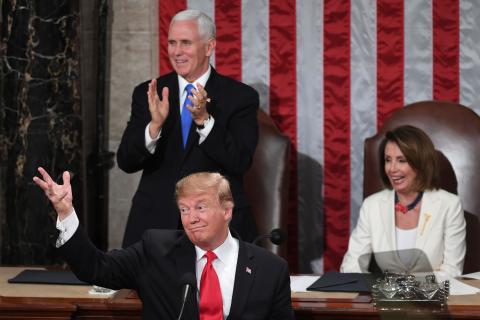 Casey McShea, Staff Writer |
The 2019 State of the Union address which took place on on February 5, was the first time President Donald Trump addressed a split Congress. During this address, the President acknowledged the high cost of prescription drugs, the opioid crisis, estate taxes, a new government-wide initiative that will focus on the economic empowerment of women in developing countries, and immigration. The address was the third longest SOTU speech ever, clocking in at 82 minutes long.
President Trump spoke a lot about immigration. He called the situation at the U.S.-Mexico border "an urgent national crisis" and once again called on Congress to approve construction of the wall. The President further argued that, without the physical barrier, working-class Americans would lose their jobs and grapple with dangerous crime and overcrowded schools and hospitals. Many even believed that the President was threatening towards the new Democratic House majority. This is a reaction to the President's comments around impending oversight investigations into his conduct and personal finances, and even alleged corruption in the administration.
"An economic miracle is taking place in the United States—and the only thing that can stop it are foolish wars, politics, or ridiculous partisan investigations," Trump said. "If there is going to be peace and legislation, there cannot be war and investigation."
Despite a record-setting address, Trump's speech was overshadowed.
Dozens of female lawmakers wore all white to the address, a tribute to U.S. suffragists who would wear white dresses in an attempt to generate photo coverage in daily newspapers. Hours before the SOTU, Democratic women were posing in their white suits and dresses, posting pictures to Twitter. Florida Representative, Lois Frankel, confirmed that the move was a direct nod to the suffragette movement, saying, "Wearing suffragette white is a respectful message of solidarity with women across the country, and a declaration that we will not go back on our hard-earned rights."
Nancy Pelosi went viral on Twitter and other social media sites after seemingly sarcastically applauding the President when he called for the rejection of "the politics of revenge, resistance, and retribution." While Pelosi was quick to clarify that her applause was not intended to be sarcastic, memes of her clapping went viral, with captions such as "When I tell my wife I changed a diaper" (@Mikel_Jollett), "When your man wants credit for changing the toilet paper roll" (@eakuhl), and "This is how a mother claps for a toddler" (@cbouzy). Even Pelosi's daughter, Christine, tweeted, "oh yes that clap took me back to the teen years. She knows. And she knows that you know. And frankly she's disappointed that you thought this would work. But here's a clap. #youtriedit."
After the address had ended, Stacey Abrams, who lost the Governor position in Georgia during the midterm elections, delivered the Democratic rebuttal to President Trump's address. She gave her speech with a friendly calm that made her criticisms of the President come across more as constructive criticism opposed to a "scolding rebuke," while still thoroughly discussing key Democratic positions. She addressed the government shutdown, which deprived federal workers of pay for weeks, safety in schools—particularly gun regulations and safety—and educational loans, economic security, immigration plans, the Affordable Care Act, climate change, civil rights, and voter suppression.
While there are a number of opinions to be had as toward the President's State of the Union Address one thing is certain: this speech and its surroundings nod towards the progressively monumental times for which we are living, regardless of what side of the aisle you stand on.