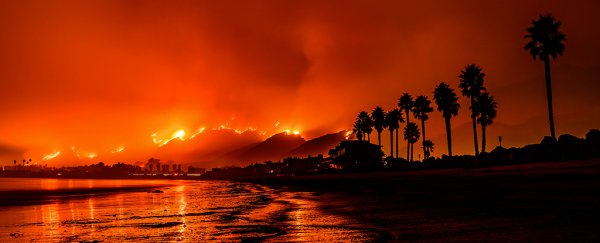 Casey McShea, Staff Writer |
Last month's California wildfires proved to be the deadliest and most destructive on record, with a total of 7,983 fires burning an area of 1,824,505 acres, the largest amount of burned acreage recorded in a fire season, according to the California Department of Forestry and Fire Protection. The fires destroyed tens of thousands of homes, killed more than 80 people, and cost the state over half a billion dollars.
Several fires spreading throughout the Golden State, including the Camp Fire, which was confirmed as the deadliest wildfire in California's history. The Camp Fire, which began on November 8 and was contained on November 25, killed 85 people, burned 153,336 acres and destroyed nearly 14,000 residences. The Woolsey Fire in Los Angeles and Ventura burned through 96,949 acres and destroyed 1,643 structures. It was contained on November 22. The Alder, Eden, and Mountaineer Fires have yet to be fully contained, each 55, 90, and 50 percent contained, respectively. All three began burning in the beginning of October.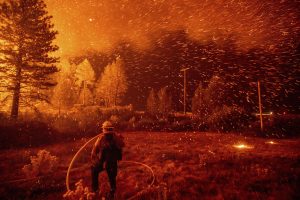 The amount spent fighting the fires over the past four and a half months have put Cal Fire, the state's forestry and fire protection agency, significantly over its initial 443 million dollar emergency fire budget. Last September, California's Fire's director, Ken Pimlott, asked state legislators for an additional 234 million dollars, saying, "Climate changing driven extreme weather conditions continue to drive intense and large fires."
The smoke from the fires even affected those on the East Coast. Toward the end of November, the National Oceanic and Atmospheric Association reported that plumes of smoke from the massive Camp Fire and other wildfires had traveled more than 3,000 miles from California to the Northeast U.S. and even out to the Atlantic. Photos of New York City confirmed this report, showing a hazy cloud over the skyline.
Many celebrities were forced to evacuate from their homes in Malibu as the Woolsey fires approached the area, including Caitlyn Jenner, Khloé Kardashian, Kim Kardashian and Kanye West, Lady Gaga, and Kylie Jenner. Some houses were even completely destroyed, including those of Robin Thicke and Miley Cyrus. Cyrus shared on Instagram and Twitter: "Completely devastated by the fires affecting my community. I am one of the lucky ones. My animals and LOVE OF MY LIFE made it out safely & that's all that matters right now. My house no longer stands but the memories shared with family & friends stand strong. I am grateful for all I have left. Sending so much love and gratitude to the firefighters and LA county Sheriff's department! If you are interested in getting involved swipe up… Donate $, Time, Supplies. I love you more than ever, Miley."
Liam Hemsworth, Cyrus' fiancé, also posted on his Instagram story. The post showed a photo of his and Cyrus' home before and after the fire had destroyed it. He also made a post with only the "after" photo, captioned, "It's been a heartbreaking few days. This is what's left of my house. Love. Many people in Malibu and surrounding areas in California have lost their homes also and my heart goes out to everyone who was affected by these fires. I spent the day in Malibu yesterday and it was amazing to see the community pulling together to help each other out in any way they can. Malibu is a strong community and this event is only going to make it stronger. Thankful for the all the great local guys that helped keep smaller fires out around my property. I love u guys. I love you Malibu. Thank you to all the hero firefighters around California. It's going to be a journey to rebuild. Stay strong all. To help/donate visit @malibufoundation and @happyhippiefdn."
Both Cyrus and Hemsworth advocated for people to donate to the Malibu Foundation, a charity "created to support the community of Malibu and its neighbors as they work to rebuild after the Woolsey Fire." The couple also personally donated 500,000 USD to the foundation through Cyrus' Happy Hippie Foundation.
Following the containment of most of the fires, flash floods carrying piles of debris have swept through rain-drenched parts of California, causing for evacuation orders and flash flood warning to be put into effect. "Cal Fire of Riverside County issues mandatory evacuation orders as thunderstorms have increased the risk of mudslides and debris flows in some areas," according to CNN.