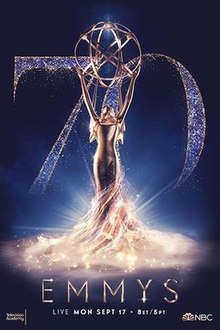 Maggie McCann, Contributing Writer |
On Monday, September 17, 2018, the Seventieth Annual Primetime Emmy Awards were hosted at the Microsoft Theatre in Los Angles, California by Saturday Night Live comedians, Michael Che and Colin Jost. In recent history, awards shows have become known for politically-charged comedy and awkward banter; Monday night's show was no exception. The show began with a successfully satirical opening song about how the Emmy's had "fixed" the diversity issue in Hollywood.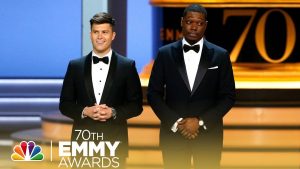 As for politics, the night's opening song set a highly political tone for the show. Co-host Michael Che included a comedy skit called "The Reparation Emmy's," where Che took "stolen" Emmy awards and gave them to black actors and actresses. A video on the Emmy's by Looper, a media news website, added that "Sometimes good ideas simply don't live up to their full potential … a truly lackluster segment, despite its potential to be both statement-making and hilarious." The co-hosts continued to tell politically charged jokes throughout the night.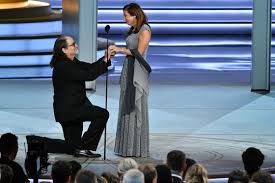 However uncomfortable the banter may have been, the nominations and Emmy winners were the real stars. HBO and Netflix stole the show, taking home 23 Emmys each. These included John Mulaney's award for Outstanding Writing for a Variety Special "Kid Gorgeous at Radio City," a Netflix special, as well as Claire Foy, who won Outstanding Lead Actress in a Drama for her performance in "The Crown," a Netflix original. HBO was awarded a total of nine Emmys for their highly popular drama "Game of Thrones," one of which was Outstanding Drama Series, which upset many fans of the FX spy drama "The Americans," which many believed should've won. This is not to say streaming networks are taking over; right behind HBO's "Game of Thrones'' was NBC's "Saturday Night Live" which took home eight Emmy awards.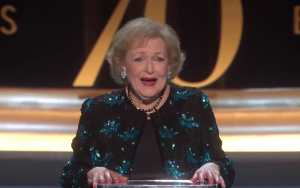 Some surprises seen during the Emmy's included an exciting marriage proposal by Glenn Weiss to his girlfriend, Jan Svendsen. Weiss used his acceptance speech for outstanding directing for a variety special to propose to Svendsen. According to Billboard, "Svendsen made her way to the stage, and as presenter Sterling K. Brown's jaw dropped, he [Glenn Weiss] placed his mother's ring on her finger. "The Crown'"s Claire Foy had to wipe a tear from her eye, though she wasn't the only one." It was a heartwarming addition to Monday night's broadcast. Similarly, Betty White's appearance was a surprise as well, upon her arrival on stage to roaring applause and a standing ovation after a short speech in which she thanked those in attendance.
Although entertaining, politics and awkward banter may be affecting the primetime Emmy's ratings because the Seventieth Primetime Emmy Awards were the lowest viewed Emmy Awards in history. Although "least watched" still means 10.2 million viewers, growing backlash could be the beginning of the end for The Emmy's and award shows like it; only time will tell.