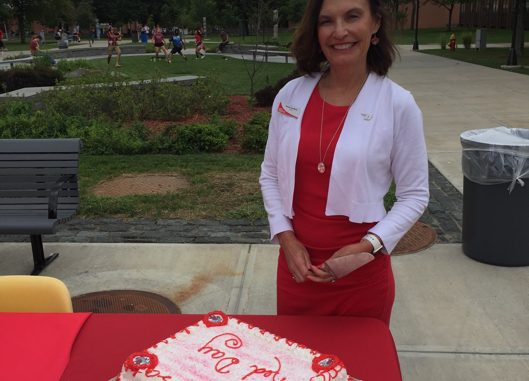 Katie Hebert, Staff Writer| Being in college means being passionate about what you do, which also means being passionate about your school! SUNY Oneonta students hold true to their Red Dragon Pride, which is evident in the big campus traditions at the college, such as Red Day.
As a way to create new and positive traditions on campus, Red Day started about 10 years ago to celebrate the college's birthday. SUNY Oneonta was founded on September 4, 1889 as the Oneonta Normal School, known for their education program. Red Day is a way to promote school spirit on the date of the college's founding, but as a way to encourage wearing red on Fridays, it was moved to the first Friday of the fall semester.
Valerie Conforti, the Student Association President, was seen at this year's tradition handing out giveaways and representing her Red Dragon Pride. "Without a football team, some students find it difficult to get spirited," says Conforti, "but I like that we can find ways to give spirit to the student body." There were many prizes to hand out, such as tank tops and water bottles for those who were wearing the most red, along with stickers and temporary tattoos, and even phone pockets for those answering SUNY Oneonta trivia questions.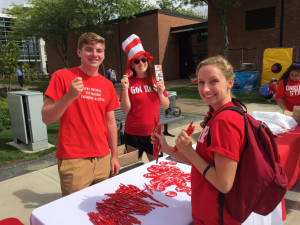 There were other activities as well, including a dunk tank and caricatures for students to get drawn with their friends, providing an opportunity for everyone to participate. Students and staff were hanging in the quad, passing through between classes, and some stopped for a game of frisbee or to lounge in the quad. Conforti, a senior studying Biochemistry, showed her school spirit by describing how there's so much to love about Oneonta: "I love the campus, views, and location. I love how the type of people who decided to come here are really awesome people. I found my home here and hope everyone else can too."
Bill Harcleroad, the Director of Campus Activities and Leadership, was heavily involved in the organization of Red Day. Harcleroad works closely with the Student Association and the Activities Council and organizes many of the events and activities that happen on campus. After sharing the history of Red Day, Harcleroad went on to say, "I work with fantastic students doing fantastic things. Every student I work with is trying to do the right thing, how can you not love working with that kind of job? Oneonta students for me are amazing, polite, and friendly," following with an endearing anecdote of the kindness our students show on our annual trip to Broadway: "I work with the best students." He went on to compliment the new SUNY Oneonta President, Dr. Barbara Morris, stating how he's "impressed with how Dr. Morris has embraced the red and white spirit."
President, Dr. Barbara Morris, stating how he's "impressed with how Dr. Morris has embraced the red and white spirit," creating her own initiatives to meet with the student body, like Pizza with The President, happening multiple times throughout the semester.
Dr. Barbara Morris is starting her first year as SUNY Oneonta's president and is already embracing her Red Dragon pride. She loves SUNY Oneonta for its welcoming environment, which she says drew her here in the first place. She has taken amazing pride in the campus traditions, especially walking in the Pass Through the Pillars ceremony, taking her first steps into the Oneonta community alongside all the new students.
While hearing the excitement and nerves from some of the freshmen in the ceremony, she was able to relate to the new step, saying that "we're all in this together." Dr. Morris shared that she's "really impressed with the traditions. It's a great way to welcome students to campus." At her first Red Day, she cut the ceremonial cake at the event, and loved that she was able to see organizations, like the Alumni Association and the Student Association, get together and celebrate what Oneonta stands for.
In terms of goals for her first year on campus, Dr. Morris says it's important for her to listen to the students, faculty, and staff so she can get a good idea of how we are as a school. She realizes how important it is for her to listen and learn about the Oneonta community, so we can do our best to prepare for the future. So far, she's having a great time in Oneonta and enjoying the environment and walking her dog here on campus in the North-East weather!
SUNY Oneonta works hard to promote positive school spirit and provide amazing events and opportunities, and that can only happen if the people in the community also promote their love and pride for the school. Events like Pass Through The Pillars and Red Day allow for all of us as a community to come together to share what we love about our home away from home, and to start off the semester in a positive light. Go Red Dragons!