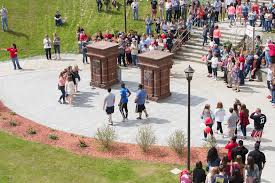 Nick, Sports Editor
Before I transferred to SUNY Oneonta after spending a year at my community college, I already had an idea of what to expect. My girlfriend had gone here our freshmen year and I had visited a few times, so I was familiar with the campus. I also met the guys who were going to be my roommates beforehand.
What I didn't know was how involved I would get with the Oneonta community outside of my classes. I joined two clubs right away, got a job, and eventually joined the State Times staff. Everything was so new and exciting. I had never been a "club" person in high school, so it was definitely a new experience to have so many responsibilities outside of class. I have been able to meet a lot of different people and form friendships that I forsee lasting beyond college.
Obviously, it hasn't been perfect these last few years, but I can honestly say that I will cherish the time I spent here. Oneonta has helped me discover my passions, and has given me the platforms to pursue those blossoming dreams.
My Oneonta life has taught me how thin I can stretch my income, finding a way to get that new jug shirt, or do some sake bombs at Tiger. I'll miss how cheap the bars are here and how great dollar draft nights are because going out on Long Island one night is like going out three  consecutive weekends here.
So for all of the memories and laughs I say, Oneonta: thank you.
Paige, Editor-in Chief
Something I remember very starkly about my first few days at Oneonta is the fact that this school was basically no one's first choice. I thought that meant something.
Throughout freshman year, I had experienced this extreme bout of depression, and I thought that meant something. I was starting to believe that everything in the universe was pulling me away from this place, so I tried to leave. But the really silly thing about mental illness is that it follows you wherever you go, and if I had gone to Geneseo like I wanted to, I would have been sad AND alone.
So I stayed, and now I'm sure that it means something. Four years later and I have changed so much from that insecure person starving for an identity. My voice has raised in small increments, and now I find myself using it to take control. I have slowly suppressed my mental illnesses, because one day I woke up and realized that I was missing out on so many parts of this small, slice of life due to fear. It wasn't fair, and like my mom always says: I don't have to live my life like that.
Senior year, I really found my place in the English Department. I have never felt more important than I have studying, learning, and growing. I've learned that a big part of life is working on yourself, acknowledging your flaws, being honest, and knowing that apologizing for the way you feel will not make things better. For anyone reading this article who is struggling here, wanting to go somewhere else, it may be meant to be; but at the same time, don't forget that you are more than your fear.
This is the most important lesson SUNY Oneonta has taught me. Well, that and the fact that I'm hella queer. I'm thankful for everything I have learned about myself and what it means to be an imperfect human.
Love yourself, find your niche, do not be afraid of what you feel, and you will be alright.
Kevin Torres-Jurado, Managing Editor
The only word that describes my experience in Oneonta is: growth.
My freshman year was probably the darkest year of my life. It seemed as if a lot of things were going wrong, and all the changes that were happening at once made it hard for me to get through each week Back then, it seemed like I'd never get out of that hole, but here I am now, a senior, with only a couple weeks left until I graduate.
During my time here, I met some wonderful people. Many have become those kinds of friends that you just know you will see again in the future. I learned a lot about myself,  about what drives me, and what bothers me, and although I don't exactly know what it is I want to do with my life, I found a route, some direction.
My Oneonta experience was unique; I did a bunch of rap shows. For the first time I exhibited my talents and felt praise. I gained confidence in my self, I matured, my style evolved, and maybe most importantly, I feel as if I tried my best.
Sydney, Arts Editor
Looking back at the four years I just spent at SUNY Oneonta and comparing them to the four prior years I spent in high school, I'm mostly startled by how relative our conception of time truly is. And yes, it's a cliché to say time flies when you're having fun, but my days in high school felt like an eternity that would never end—I would have sprinted across that graduation stage if it wasn't for the heels I was wearing. But these four years went by eerily fast, to the point that I think I could walk into my freshman dorm room in the Golding basement right now, and it would still feel like home to me.
I'm scared because graduation means something different this time—we're no longer leaving a hometown that we always have the option and obligation to come back to. Leaving now means many of us may never come back to Oneonta, and while, at first thought, that actually doesn't sound too bad, I've met people here and made memories in this city that make never returning sound terrifying.
After this, there won't be any more staying at Jimmy's until the lights come on and "Don't Stop Believin'" starts playing, nor will there be going to the Jug and requesting exclusively "Africa" by Toto and Billy Joel—which all may be for the best. But worse, I won't get to live with my three crazy Long Island roommates, which means no more bougie wine nights, no more hung-over SVU marathons, and no more trying to teach our cat, Bleu, how to walk on a leash (I'll miss him most of all).
As fast as four years can feel, I'm thankful for how many mistakes, lessons, and memories can be packed into eight semesters. Thank you, Oneonta, for making me into someone I'm much happier to be.
-Sincerely,
The State Times Class of 2018