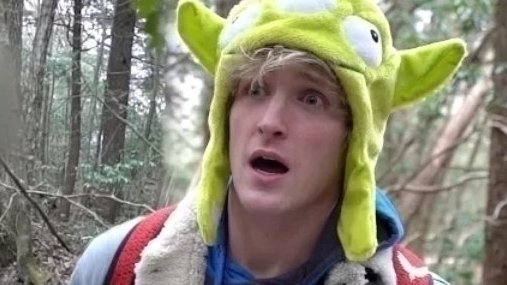 Chrystal Savage, Staff Writer |
Logan Paul, 22-year-old actor, vlogger, and YouTube star, recently uploaded a video to social media that should have never been recorded nor posted to the public in the first place. The video was originally uploaded on December 31, 2017 by Paul after his trip to Mt. Fuji, where he toured Aokigahara, also known as "Suicide Forest."
The video, originally intended to focus on the haunted aspect of the forest, ended up showing a suicide victim graphically hanging from a tree. The group, who supposedly accidentally discovered the situation, immediately called authorities, but continued to film. They spoke seriously about the issue, but not without "lighthearted" moments intermingled. Not only was the video filmed, edited, and uploaded to the internet, the victim's body was fully visible to viewers (though Paul did censor the face). The clip was viewed nearly seven million times before its removal.
People were quick to react, and understandably so. In jarring comments of heartless cynicism, thousands of hypercritical persons asserted that Paul should kill himself over the video. Paul's inconsiderate actions and ignorance undoubtedly remains a massive part of the problem. However, these remarks obliterate any progress to a resolution.
Others defended his actions, including Paul's younger brother Jake, actor and YouTube personality. He addressed the issue in a YouTube video several weeks after the initial incident. Jake Paul claimed to know his brother better than anyone else, continuing that Logan wouldn't set out to intentionally offend anyone and that this is an opportunity for his brother to learn and grow.
Following the backlash from the media and viewers alike, Logan Paul retracted the video, took to social media, and textually apologized. He shortly after uploaded a two-minute video, where the star verbally apologized to the victim and his family. He went on to ask that people not defend him, his actions, or his "horrible lapse of judgment."
Shortly thereafter, YouTube fired Paul following the sequence of events. After a few weeks, Paul resurfaced to social media through vlogging. He uploaded a video on January 24 titled, "Suicide: Be Here Tomorrow." The short broadcast featured a narrative of Paul's struggle to understand the issue and his "ignorance on the subject," as he met with various mental health experts.
Paul continued to clarify his perception by discussing the threat with survivor, Kevin Hines, who attempted death by jumping off the Golden Gate Bridge at 19 years old. Hines claimed that he had instantly regretted his decision. His words were powerful, saying that he is so grateful for surviving and for every breath he has taken since. Hines explained that if he had the opportunity to go back and speak with his younger self in the moment he was face to face with death, he would have put a hand on his shoulder and said, "I'm here for you. I've got you."
The video also detailed how one in six high school students contemplate suicide and how out of 288 people who consider the option, only one of them follows through with it. This not only exemplifies the magnitude of the problem, but also the viability of the solution. Furthermore, the video detailed "the five steps that anyone can take to help prevent suicide."
Despite this progress and newfound support in the wake of his attempts to reconcile for his mistakes, Paul slipped back into the impulsive cycle of self destruction. On January 31, Rapper, Cardi B, posted a picture on Instagram captioning it, "They trinna crucify me like did Christ." Paul commented on the post saying, "lawlz u tellin me," in infrared conjecture with his ongoing battle with the public. This comment was unsurprisingly not well received.
The following day, Paul was interviewed by Michael Strahan, Good Morning America anchor. Paul essentially said he respected YouTube for making a hard decision, though he doesn't personally agree with it. He continued by saying he is hurt by comments telling him to kill himself, but he feels that they may be warranted and that he's taking this opportunity to educate himself and others and that he genuinely believes this happened for a reason.
In the end, Paul claims he doesn't regret the experience, as he's met so many amazing people that he would have never otherwise. He also explained that he believes parents should better monitor their kids viewing habits and that he's relieved he has started a conversation in some capacity about suicide. He finished by saying that he is sorry the whole world hates him and is going to use that to better himself.
Logan Paul couldn't have known the situation he was approaching on that fateful December day, and how the consequences to his actions would ultimately alter the course of his life, hopefully for his future betterment. Whether you sympathize with Logan Paul or not, he has undoubtedly reignited an otherwise ignored issue. Despite the discomfort the discussion of suicide brings, there is a beautiful and positive road we can take—moving forward, saving lives, and raising awareness.
If you, or someone you know is struggling with a personal crisis, confidential help is available. Call 1-800-273-8255 or Text CONNECT to741-741.