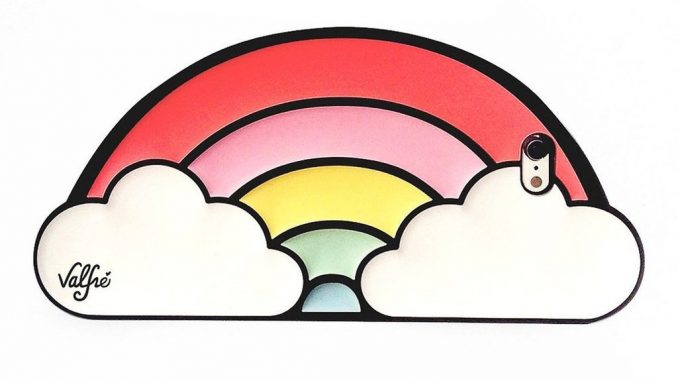 Michelle Barbero, Staff Writer |
The fashion industry has been facing a relentless issue: independent artists and designers having their work stolen and sold for profit by large-scale companies. Young, new designers who don't have as vast of a following as a main stream fashion company usually fall victim to this phenomenon. Over the past several years, there have been multiple reports of college students and new designers catching big businesses in the act of stealing their designs.
One of the many companies who have been accused of fashion plagiarism is Zara, a clothing company founded in Arteixo, Spain.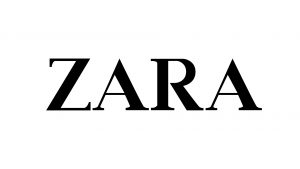 An accusation that was made against Zara came from independent artist Tuesday Bassen in Los Angeles. Bassen's suspicion that Zara stole her designs came to the surface in July 2016, after the issue was brought to her attention by her fans through social media. Fans pointed out that one of Zara's designs looked extremely similar to one of Bassen's pennant designs.
According to The Guardian, when Bassen took legal action and reached out to Zara about the copied designs, "She was told that her designs were not distinctive enough to be associated with her."
That is one of the most common arguments used against designers, and Zara has been accused of stealing designs more than once.
American fashion retailer Forever 21 has also come under fire for allegedly stealing designs from independent designers.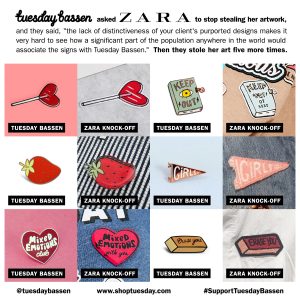 Daily Mail reported that "by 2011, the brand had already been sued more than 50 times based on these accusations, including by major designers like Anna Sui, Betsey Johnson, Diane Von Furstenberg, and 3.1 Phillip Lim."
An independent designer who claims to have fallen victim to Forever 21's line of theft is Valfre, which sells women's clothing and accessories. Forever 21 attempted to sell a rainbow phone case that closely resembled Valfre's Rainbow 3D iPhone case.
Additionally, clothing retailer Rue 21 tried to sell headphones that were very similar to ones being sold by Valfre. Both Forever 21 and Rue 21 took the questionable items off of their websites.
Donald Eley, Valfre's CEO, is quoted by Daily Mail to have said, "It was crazy to see these photos side by side and then think fashion companies can get away with this, though most of them do. But we're here to stand up for intellectual property."
Since, Valfre has taken legal action against both Forever 21 and Rue 21.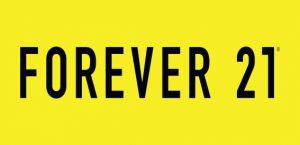 Some might wonder why people buy copies from large businesses rather than originals from young or independent designers. Even though most consumers do not agree with companies stealing other people's work, they will still purchase copies due to the ability of larger companies to sell the product for less money. This hurts smaller designers financially, suppressing their growth. Consumers who aren't dedicated followers of a brand will most likely go for the retailer with the lowest price.
Young designers and small-scale companies now have to take extra precautions to make sure that large companies do not profit from their designs without permission.
UPDATE:
According to The Bulletin, Limburg woodcarver Patrick Damiaens won a lawsuit against Zara Home, who sold Damiaens' design of a Dutch family herald without his permission on one of their candles.
The court has ordered Zara Home to pay the damages and legal costs as well as to publish this outcome in the Dutch Heraldisch Tijdshrift, a magazine about heraldic art.
Since, Damiaens has told The State Times that he encourages other artists to face Zara.
"Never be afraid. If you are right, go for it. Challenge them in court. I am the first to win a court case from this multinational," said Damiaens.
Convicting Zara should be easier henceforth, as they are now proven to have a hand in plagiarism.