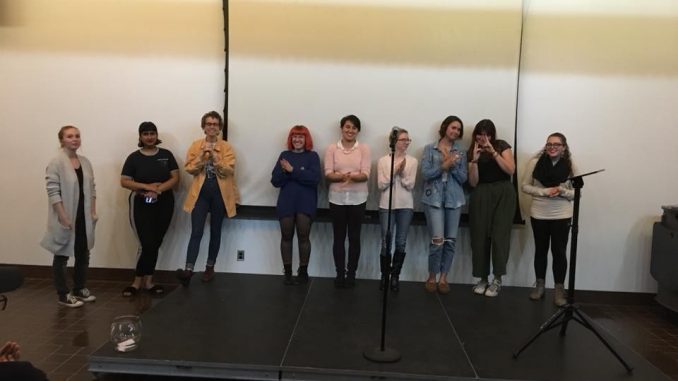 Michelle Barbero, Staff Writer |
On Wednesday, October 27, poets and poetry enthusiasts alike met in the Hunt Union Waterfront room at SUNY Oneonta.
The Big O' Poetry Slam was sponsored by the office of Student Life and Leadership, the Poetry Slam Association, and the SUNY Oneonta Auxiliary Services. Students who attended the event were awarded diversity LEAD credit, and those students who performed at the event were awarded LEAD credit for effective communication skills.
According to SUNY Oneonta, the Big O' Poetry Slam was founded on October 16, 2001 as "the varsity sport of the soul" by co-founders Jamie Manning and Robert Haggerty. The tradition has been kept alive and well since its creation, with the most recent slam being the 152nd in the series.
This event was the last of the first five Big O' Poetry Slams, which acted as a platform for student to showcase their skills and qualify for a chance to compete at the Grand Slam on November 8. The top performers at the Grand Slam will then compete with poets from around the world at the 2018 College Unions Poetry Slam Invitational (CUPSI).
The Big O' Poetry Slams are free and open to the public. The audience is encouraged to be loud and proud in their support or criticism of the poets putting their hearts out onto the stage. Complex topics such as racism, sexuality, mental illness, love, politics, truth, and more were all touched upon by the student poets.
President of the Poetry Slam Association, Jillian Moczara, explained that, "At a lot of slams, the audience can tend to be a little self-conscious about being loud and cheering. But last night, everyone, audience and poets alike, put it all out there."
The slam kicked off with a notable performance by two competitors, Denny Burhan and Katie Hebert. This duet consisted of a mixture of singing and poetry addressing topics such as metal illness, family conflict, and addiction.
The team ended with the striking line, "I just want to leave." 
In addition to the SUNY Oneonta student poets, Jamie DeWolf, an award-winning performer, made an appearance as the featured poet of the night. DeWolf is from Oakland, California, and on top of being a performer, he is also a filmmaker and a teaching artist. This NPR Snap Judgement "Performer of the Year" award recipient took to the stage and told stories of his life and lessons he has learned through experiences pertaining to religion, beauty, and love.
Moczara shared that, "He was telling us stories using beautiful, poetic language. He kept the audience engaged and listening with it never being forced."
The winners of this slam were Gwyn Quagliana, who came in first place, and Jo Arroyo, who came in second place. Recognized for their hard work and the risks they took on the stage, these two students were rewarded with the opportunity to continue moving forward toward CUPSI.