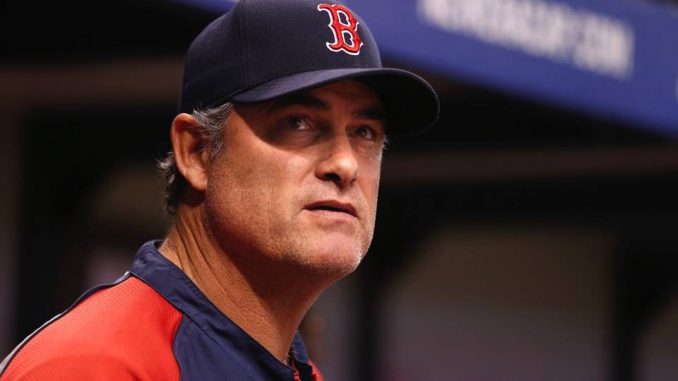 Wyatt Cushman, Staff Writer |
There is no question that Boston is one of the best sports cities in America. Boston fans expect the absolute best from their teams every season, creating a tremendous amount of pressure for players, coaches, and everyone else involved. The Boston Red Sox are a storied franchise that has a reputation of being one of the best clubs in baseball year after year. They have won two World Series championships in the last decade — their most recent one in 2013 — and just won back to back division titles for the first time ever. This sounds like a team that as of late has been quite successful, but despite all this success, manager John Farrell was fired after his team's exit from the playoffs about two weeks ago.
In five seasons with the Red Sox, Farrell compiled a 432-378 record. He won three division titles, the only Red Sox manager to ever do that, but he also finished in last place twice. It's crazy to think that a team could be so good one year and so bad the next, but Farrell's Red Sox were able to do it. This type of inconsistency isn't a key ingredient for a successful franchise and was a factor in deciding whether Farrell would be let go this offseason.
Aside from the inconsistency, another factor for letting Farrell go was his team's poor play in the postseason. In his first season as manager he won the World Series, but since then the Sox have won just one playoff game.  A season ago they were swept by the Cleveland Indians, a team that many thought the Red Sox should have beaten, and this season they were defeated by the Houston Astros in four games. Each one of these teams looked like they shied away from the postseason stage. They really didn't put up any sort of fight during the most important time of the season. Some of the criticism that comes along with that lack of productivity must fall on the manager, and for Farrell it got him kicked out of town.
As the Red Sox move on, there are a few names that people believe would be a good fit to replace Farrell. Brad Ausmus, the former manager of the Detroit Tigers, is thought to be a candidate because of his history with Red Sox President of Baseball Operations, Dave Dombrowski. Dombrowski hired Ausmus for the Tigers job in 2014 when he was still in Detroit. Dombrowski liked Ausmus then, and is thought to think the same of him now. Sox fans shouldn't be surprised if he is their manager come 2018. Another name and possibly the fan favorite to win the job is former Red Sox captain Jason Varitek. Varitek was an emotional leader for Red Sox teams in the past, and won two World Series rings with them. Even though he has no managerial experience, people think he could be a good fit. Only time will tell the real outcome.
The Red Sox have a good young team that anyone should be excited about if they get selected to be Boston's new manager. Whether it is Ausmus, Varitek, or someone else, they need know how to fire their team up and get them ready to perform in big spots. He'll have his work cut out for him, but the future manager will be set up for immediate success.