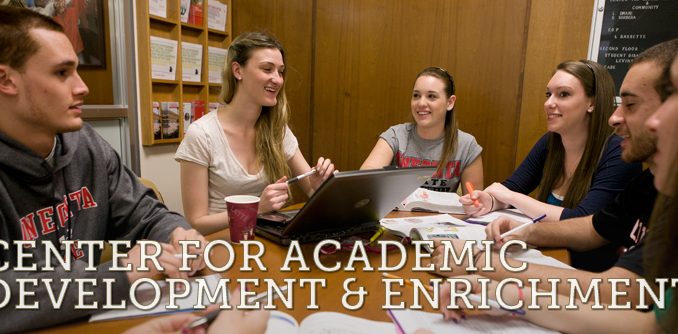 Michelle Barbero, Staff Writer |
Hayes Hall, a residence hall that serves as a transfer student living community, hosted an academic exploration event open to all SUNY Oneonta students. On Wednesday, September 27 at 8 p.m., the program began in the lobby of the building, stretching into the first-floor lounge.
Stations with handmade trifold display boards were set up around the two rooms to educate students about beneficial academic services currently available to them. Some people shared where their favorite study spots on campus were. In addition, each station had volunteers to answer questions as well as hand out informative flyers, pamphlets, and raffle tickets.
One of these flyers informed people on what LEAD credit is, which was offered to students for attending the event. The LEAD credit program is designed to award and recognize student leaders in the SUNY Oneonta community. Any student can participate in the program if they decide to. There are various opportunities on campus for students to earn LEAD credit at events.
There are three levels of leadership — silver, gold, and platinum — that each have certain requirements to obtain. Making it to different levels of recognized leadership through the LEAD credit program is extremely beneficial to students in that it can be included on resumes to impress future employers with the applicant's initiative and wide range of interests. For more information on the Leadership Education and Development Program at Oneonta email [email protected].
Another free academic service that students should be aware of is the Center for Academic Development and Enrichment. CADE is a learning facility located in Alumni Hall.
As stated on the SUNY Oneonta website: "The mission of CADE is to provide a supportive environment which empowers students to become engaged, confident, and self-aware learners who can communicate clearly and achieve their goals in college and life."
CADE offers drop-in and appointment-based tutoring for all SUNY Oneonta students who are taking 100 and 200 level classes.
Volunteer Janet Gleeson said that, "CADE is important because these are peer tutors that have taken the class before."
Tutoring is done either by a professional tutor or a peer who has gotten at least a B+ in the subject at hand.
A professional tutor is someone with a Masters degree and a National Tutoring Association (NTA) certificate who can work with students in a more generalized way. These tutors give students the tools they need to help themselves in future assignments. For example, a professional tutor may work with students to better comprehend English if it is their second language, to identify their individual learning style, to develop effective studying methods, as well as to overcome test anxiety and learning differences.
Peer tutors may be a more comfortable option for students. These tutors are also required to undergo NTA training, but they more-so work as a guide or sounding board to help students advance in a particular subject, such as Calculus or American Literature.
In addition to subject-specific tutoring, there are also writing consultations for students' essays. This service takes place on Mondays from 3:00 to 7:00 p.m. for the Fall 2017 semester. For more information on CADE, email [email protected].
The Career Development Center is also an important place to keep in mind. This center is located in the Netzer Administration Building. The goal of this service is to make students aware of career options relevant to their major and to prepare students for the competitive job market they face post-graduation.
Volunteer Ryan Cabrera explained that the Career Development Center "helps with mock interviews, critiques resumes, helps students obtain internships, and teaches students about graduate school and their opportunities."
There are an extensive amount of options for students looking for support in academics and career advice right on campus. It is important for students to be aware of all of the services and programs that they have access to.
For more information on the Career Development Center email [email protected].