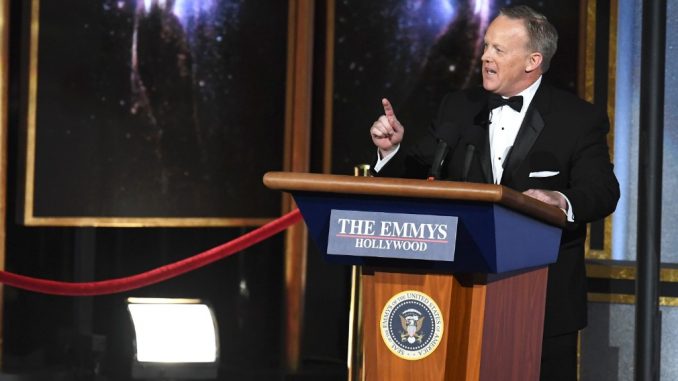 David Anderson, Arts Editor |
On Sunday, September 17, the Emmy's showcased a glimmering array of polished celebrities, all hoping for a chance to join Stephen Colbert on stage and accept the coveted Emmy award. But one surprise guest wasn't interested in the awards; he was interested in the crowd size.
Laura Bradley of Vanity Fair reported that as the award show came to a close, Sean Spicer wheeled out a podium and assured everyone that, "This will be the largest audience to witness an Emmy's. Period. Both in person and around the world."
The backlash was swift and merciless.
According to Brian Stelter of CNN media, Zach Braff tweeted, "I'm not ready to laugh 'with' Sean Spicer. I think he is an evil, opportunistic liar that hurt our country."
Stelter goes on to include Lawrence O'Donnell in the list of detractors. O'Donnell stated that the Emmy's "… helped Spicer pump up his lecture fees, which is all that matters to him now."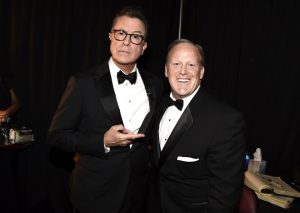 Verily, Spicer is working with the Worldwide Speakers Group to do a public lecture circuit at venues ranging from corporations and trade associations to universities, CNN's Katishi Maake reported.
This appearance seems a bit out of character for this year's Emmy's host, Stephen Colbert, host of The Late Show who heaps his wrath upon the Trump administration nearly every night he airs. However, it was Colbert who proposed the idea, and according to Vanity Fair, Colbert and his team thought the shock and awe would be worth the blowback, a choice which Frank Bruni of the New York Times finds despicable.
Bruni accused Colbert and the others responsible for the appearance of using Donald Trump's playbook, claiming that in this age, those seeking attention will often marry moral repugnancy and moral purity.
"Someone who arouses curiosity or makes you gape can monetize that as easily as someone who inspires admiration can profit from your genuine regard," said Bruni.
Bruni and the other detractors make a fair but rather idealistic point. There is nothing wrong with believing that Spicer is evil or, at the very least, complicit in a gross amount of misinformation. That being said, announcing this belief and advocating for a kind of moral segregation solves nothing.
Let's take Braff's comment at face value for a second and be temporarily convinced that Spicer is pure evil. We cannot throw holy water at him until he disappears nor can we treat him like a mosquito bite and just loathe him into nonexistence. The country has a large population of people who share Spicer's beliefs, and by involving him in the fun and games of the liberal elite that republicans like Spicer despise, a small step has been made in creating a more compromising culture.
If more lighthearted actions are taken between people who despise one another's political morals, both in popular and political culture, the refinement that comes from the interaction of two opposing sides could help end some of the hateful and regressive attitudes stemming from all ends of the political spectrum.
I'm not saying that Cornel West should start having Bingo nights with Chris Cantwell. But if Colbert can hang out with Spicer and the world doesn't end the following day, then maybe that should be an example for all of us.