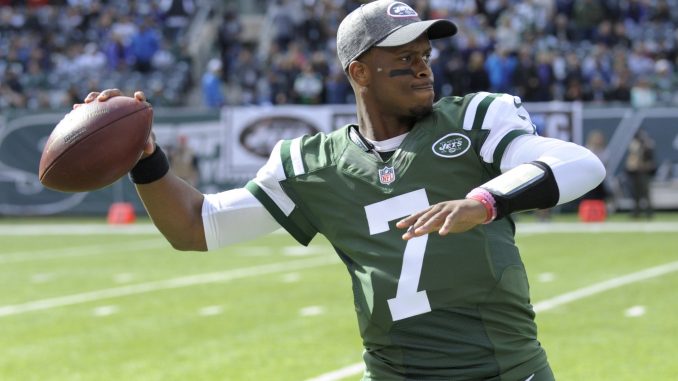 Derek Dimino, Staff Writer |
Last week at the annual NFL owners meeting, Giants Head Coach Ben McAdoo entertained the idea of Geno Smith as a post-Eli Manning option at Quarterback.
When asked whether Geno would be a viable long-term option at Quarterback, Ben McAdoo replied, "I can't see why not."
McAdoo went on to add, "A guy who has his skillset is hard to find. You can't find guys out there that have that type of arm talent, the quick release, the throwing motion and the feet to go with it. And he's a competitor. It's exciting to bring a guy in and work with a guy like that. See where you can take him."
While the coach's comments were admittedly premature, they have escalated questions regarding the future of the Giants Quarterback position. For one, how long does Eli Manning really have, and can the polarizing Geno Smith fill his shoes?
Heading into his fourteenth season, Eli Manning has undeniably been the most reliable Quarterback in the NFL. In his tenure, he has started 199 consecutive games and counting, having missed only a few games in his rookie year. Only behind Brett Favre and his brother Peyton Manning in the all-time consecutive starts list, nothing apparent stands in Eli's way to surpass them.
Peyton Manning started 208 consecutive games before he was required to forfeit his entire 2011 season to recover from a neck surgery. Even after missing a season, Peyton was able to rally three consecutive 16-start seasons where he led the Denver Broncos to the playoffs. Though he took a quick decline in his final season in 2015, he was able to cap his historic 18-year career with a Super Bowl victory.
With a miraculously clean injury slate, Eli Manning seems like a sure bet to fly past his brother's 208-game achievement. Even if Eli declined similarly to Peyton, the Giants could still be looking at three or four more years with Eli as a dependable starter, granted no major injuries occur in that time.
Though McAdoo may be looking five years into the future, could Geno Smith be the answer to post-Eli questions?
Since 2013, the year Smith was drafted in the second round by the New York Jets, he has had a plethora of bad reviews. In 2013, Smith's first year as a starter, he was less than impressive (though that could be expected of almost every rookie Quarterback). He amassed 21 interceptions while only throwing for 12 touchdowns. With little improvement in his sophomore season, the Jets were forced to look elsewhere for an immediate option.
Poor stats combined with a 2015 locker room incident (he was punched in the face by a teammate, resulting in a broken jaw) have given teams plenty of reasons not to let Geno start over the last two years.
But has his pro career been a misrepresentation of what he can achieve as an NFL starter? During his three years as starter at the University of West Virginia, Smith exhibited great passing and running abilities while being an obvious leader on the field.
Completing over 67 percent of his passes, he threw 97 touchdowns to only 20 interceptions. He also accumulated over 4,000 yards passing in each of his last two seasons. In addition, he was elusive in the pocket, running only when necessary. His speed was highlighted at the 2013 NFL Combine where he ran a 4.59 second 40-yard dash.
In that three-year span, Smith came away with an Orange Bowl victory where he was awarded MVP, recording seven total touchdowns and 407 yards passing. This tremendous performance was enough to break the record for most passing yards in an Orange Bowl game set by Tom Brady.
Entering his fifth season in the NFL, Geno Smith will have plenty of time to be mentored into the leadership role for the Giants if Eli Manning can stay healthy for at least another three years. With Eli's consistent durability, Geno will unlikely see any field time this year or the next unless they're ahead by a considerable margin. Though starting experience may be good to give the young Quarterback a little more confidence, learning how to read the defense and control your offense under a Manning could be exponentially better.
Though he has been a locker room dividing player since the day he stepped into the Jets facility, his attributes may come in handy for the Giants a little way down the line. With many other avenues the Giants can pursue, Smith is hardly their last option. Luckily, he is only a backup on a one-year contract, so this discussion will probably be rekindled this time next year, just maybe with another team, for better or worse.