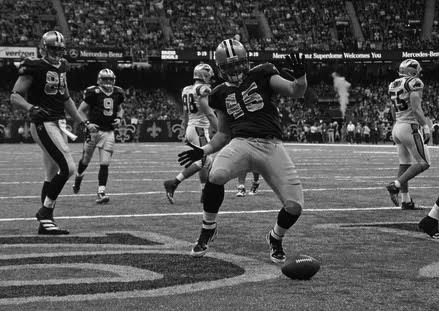 Derek Dimino, Staff Writer |
For as long as I have been watching football, celebration dances have always been incorporated into the game. Whether it was a touchdown, a sack, or an interception, a celebration of sorts was only moments from erupting. Since celebration dances have evolved into elaborate works of expression, their importance in pop culture has only been amplified.
Unfortunately for the executives of the NFL, they have been unable to see the golden opportunity directly in front of them. The league's rules firmly prohibit prolonged celebrations, choreographed celebrations, going to the ground while celebrating, or use of a ball or anything else as a prop, amongst others.
I personally don't see how any of these gestures are hurting the game. I understand the restriction of violence related gestures, sexually suggestive dances, and spiking, rolling or throwing the ball at an opponent, but I don't see how using the football as a cell phone so you can pretend to call your mom or doing a choreographed dance from "lil' whoever's" new music video earns your team a 15-yard penalty.
A 15-yard penalty can cost a team a win. It's the difference between making an easy 30-yard field goal and shanking a 45-yarder to a returner poised to take one to the house.
I get that if someone's celebrating and making a spectacle out of making a tackle on first down, the games going to lose some of its integrity, and certainly some of its entertainment. I'm just saying, let the touchdown dances go longer. Let the momentum stopping sacker get his time to shine in the center of the field. Not only let them use props, but give them props. Ezekiel Elliot jumped into a Salvation Army Bucket after he scored a touchdown and made the charity a bajillion dollars in a day (actually $850,000).
Give the people what they want. You know who gave the people what they want? Terrell Owens. And you know where he is? Probably doing crunches in his driveway with a lot of money awaiting a call from the Hall of Fame.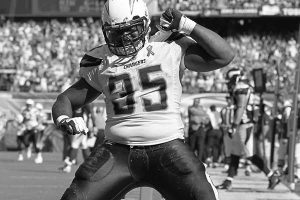 Terrell Owens did it all. He borrowed a cheerleader's pom-poms to flaunt a touchdown. He's hidden a sharpie in his sock, which he used to sign the ball he scored with, later giving it to a fan. The man was a showman through and through, and it never impacted his performance.
Not only are celebration dances an A-plus source of entertainment, but it also gives fans another way to connect with their favorite players. It can also act as another avenue to draw a different demographic to the game. These jubilant acts put aside the tough-guy mentality that football radiates and allows more groups of people to enjoy the sport as well.
Now your grandma may be more interested in the game. She may call Victor Cruz, "the guy who does the salsa," but that's the price the NFL will have to pay in order to expand their audience.
The excitement of the game is contagious. I can't expect a player to fully control himself after he does something exciting. If I can't keep my composure while watching a game from my couch, how can a player do it with 60,000 people cheering around him.
Every time the Giants do something, I want to get up and celebrate. I don't care if Odell Beckham Jr. just caught a touchdown or Eli Manning just evaded a sack, I'm getting out of my chair and celebrating. If the kid that dresses up like Ben McAdoo comes on my television screen, I'm cheering and dancing. If a ball boy makes a one-handed grab on the sideline? Time to dab myself to sleep.
Why can't the NFL see that it's good for their business?
Professional football is a children's game played by adults. If you take all the fun out of a children's game, then it just becomes work. Not only for the players, but for the fans.
The reason the NFL is as popular as it is (besides people enjoying two freaks of nature squaring off against one another) is because it gives every red-blooded American an opportunity to step away from their responsibilities and take on the successes (and failures) of the people they admire.
If your team wins a game, you win a game. If they score a touchdown, you score a touchdown. If your team is the Browns, there's not much escape from reality, but at least you can get excited about the possibility that Josh Gordon may be done smoking dope during the season.
There is nothing in the entire world that is more fun to watch than a 300-pound man dancing after a fumble recovery. With rules like these, I may never see Odell Beckham Jr. celebrate to his full potential. As far as I'm concerned, celebrating after a big play is as much a part of football as blaming the referees for your team's loss or commercials starring Peyton Manning.
Mr. Goodell, let the men dance. As long as the gestures aren't violent, sexually suggestive, or aimed at the other team, it should be allowed. The fans love it, the players love it, so it must be good for the game.