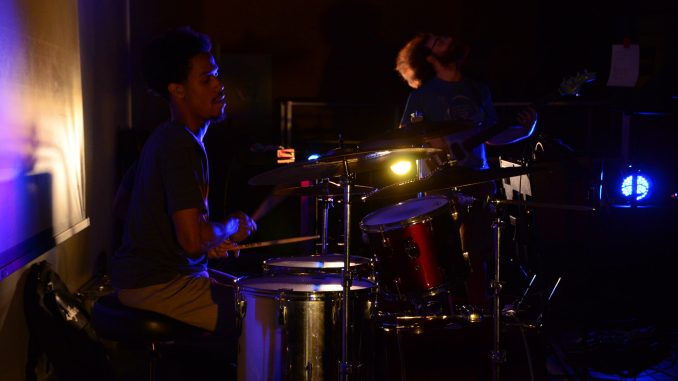 David Anderson, Staff Writer |
On Sunday, March 26, Hunt Union's Waterfront Room was graced with the presence of Broccoli Samurai, a jam band from Cleveland, Ohio. Hosted by the Music Industry Club, the event ran from 6:00 p.m. to 10:00 p.m. and also featured the student talents of The Light Full, Gorf, and Bad Gouda.
The Light Full opened the evening with a nonstop set combining the talents of student rappers, guitarists, percussionists, keyboardists, and saxophone players. In a style unlike past Jam Bands, The Light Full never pauses between songs and instead, prides itself on seamlessly transitioning between each section which emphasizes different talents of the groups. Saxophone and guitar solos were followed by vocal performances, which were followed by raps, and then afterword came keyboard solos. The group delivers a wall of sound that changes with each performance.
Bad Gouda, a trio consisting of Nick Frankel, Ben Rudolph, and Jared Cowen followed The Light Full with their largely instrumental rock. Mixing classic covers such as Ain't No Sunshine When She's Gone with their own songs about mustard, Bad Gouda's focal point is their extensive improvisations.
Gorf was the final act preceding Broccoli Samurai. Featuring Mo LaMastro, Mikey Rotunno, and Ben Rudolph (again), this trio combines jazz style chord melodies with heavy metal riffs. Functioning at a range of tempos and levels of intensity, Gorf would match post-punk level noise with Joe Pass- style chord voicings, often in the same song.
The evening closed with Broccoli Samurai, a Cleveland based jam band formed in 2010 and featuring the talents of Ryan Hodson, Cameron Bickley, Zachary Wolfe Nagi-Schehl, and Michael Vincent. Broccoli Samurai has been widely circulated amongst the festival scene, playing Peach Music Festival, Electric Forest, Catskill Chill Music Festival and many more.
The band self identifies as a Jam-electronica band, and most recordings found on Spotify, Soundcloud, or YouTube, emphasize keyboards, synthesizers, and dance beats. However, their performance last Sunday was heavily guitar-driven. Michael Vincent, the group's guitarist, drove nearly every song, giving cues and delivering solos of near-virtuosity. While the structure of the music was generally mid-tempo funk, Vincent varied his playing for each song so that his proficiency never became redundant.
While Vincent ultimately held the reigns on this performance, this does not undermine the tremendous talent of the other members. Each member added their own distinctive element to the group without ever impeding their constituents. Drummer Cameron Bickley played some of the loudest backbeats I've ever heard while adding enough fills around his playing to give some excellent variety to the rhythm section. Ryan Hodson, the band's keyboard and synth player, had a litany of electronics at his disposal but used them tastefully; a skill not often found in synth oriented music. He and Vincent communicated effectively throughout the performance and both took turns in the spotlight without ever detracting from the other.
While the band's recordings have yet to match their impeccable live performances, hopefully future recordings from the group will, and until then, Broccoli Samurai is a worthwhile show if they ever play in your area.