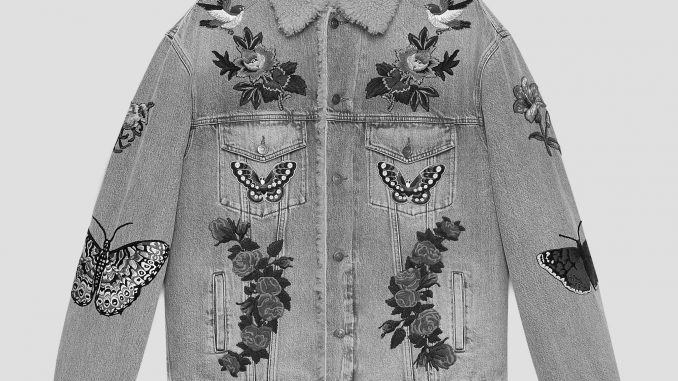 Taylor Price, Staff Writer |
It is hard to pinpoint when the embroidery trend took off but it has been featured in many of the past fashion seasons. Embroidery as a form of design dates back to fifth century BC when there was an increase in demand for elaborate and intricate decorations. In recent years, we have seen a similar demand on both the runway and in millennial everyday aesthetics. It is not surprising that this style is popular in a culture where standing out is the goal. The bold, attention grabbing nature of embroidery can set anyone apart from the crowd.
Embroidery can range from floral patterns to song lyrics. Even simple phrases can be sewn into clothes and change the style of the piece entirely. This has led many designers to take advantage of the ancient handicraft in their clothing. The intricate art has been spreading rapidly to high end labels and to crafty young people who are embracing embroidery as a DIY movement. Embroidering shows that you take pride in making sure what you wear is an extension of yourself.
Some would point to Gucci as the original trendsetter in embroidery because of how they are credited with welcoming the granny-chic aesthetic to the world. Another contributor was Valentino, introducing organza gowns with ornate designs and subtly sewn threadworks spelling out romantic phrases.
Several of the designers featured in 2017's New York Fashion Week included embroidery in their collections as well. Christian Siriano embroidered birds across the chests of a few different looks, creating a standout motif.  Jonathan Simkhai used metallic thread to embroider a few cropped jackets, whereas Jeremy Scott used gold to design an American Bald Eagle across the back of a cape. Nicole Miller added mystical dragons on the back of grungy bombers while Kate Spade paired a leopard skirt with a schoolgirl cardigan that had the word "meow" sewn on the front. The embroidery displayed throughout fashion week was often what made pieces unusual and noteworthy; it added something special.
Embroidery has come into play in modern fashion as a way for people to personalize their style as well as showcase their brand and their specific fashion sense. It's about an intense desire for exclusive things in a world full of imitations and fashion that is overlooked because it is overdone or simply not exciting enough. It is a simple form of embellishment that can transform clothes in a unique way.
There is a personal sentiment that comes along with embroidery. It requires someone's handiwork and concentration, a specific design for a specific look. It feels intimate. A run of the mill basic tee bought for $3 at the local thrift store can be made into something irreplaceable and one of a kind. Most people can't afford the luxury of designer embroidery by Gucci or Kate Spade but a little DIY job on your favorite pair of mom jeans or an old button up can serve the same purpose and acknowledge this up-to-date trend. If you want to add something individual to your own style, you could easily revamp some of your clothes with just a few materials and online tutorials.