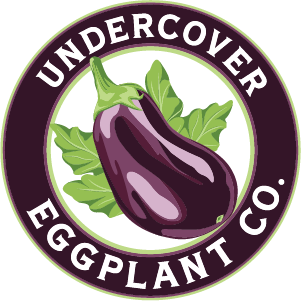 Where I Went: Undercover Eggplant on 421 Chestnut St., Oneonta, NY.
What I ordered: The Hertha Winch with a side of pasta salad ($8.25), Grape Leaves ($4), Italian cheesecake ($4.50), and XXX Vitamin Water ($1).*
First Impression: From the outside, Undercover Eggplant looks charming and inviting, with the restaurant's name engraved in a rustic font. Inside, there's subway tile, wooden crates, and metal barrels for decoration. The animated logo coupled with the bright green and purple color scheme help create a balanced, modernized-retro style. Customers simply order at the register with a member of the friendly staff and while they wait, they hold onto a device – maybe something like the vibrating table trackers at Panera. Other than American dishes like French fries, the menu had diverse options ranging from Cuban sandwiches to Middle Eastern gyros and Italian pizza.
My Meal: After much deliberation, I ordered The Hertha Winch, a sandwich with a breaded chicken cutlet, sliced pepperoni, melted mozzarella cheese, and Cajun mayonnaise on Italian bread. It was juicy and delicious, but the chicken was so wet that the breading became soft and largely fell apart. I had been looking forward to a crunch, but I ended up a little disappointed. Any good sandwich needs a sauce, and the mayo added a pleasant tang. The spice of the pepperoni also kicked up the flavor.
At first, I tried to request a different side other than pasta salad, but they do not offer substitutes. I could be wrong, but I don't think pasta salad is as popular as chips, fries, or even broccoli in terms of complementing a main dish. I gave it a chance, though. It had all of the standard features: penne macaroni, shredded carrots, and a subtle vinegary sweetness. I prefer elbow macaroni with a savory aioli, but if all-American pasta salad is your thing, you'd like it.
I moved onto dessert, my Italian cheesecake, which was nestled inside a plastic container on top of some unknown juice. It had no crust, which would have given a good contrasting texture. Even some nuts, fruit, or drizzle on top would have added an element to offset the custard. I thought that the cheesecake may be smooth or slightly firm. Instead, the cheesecake had an odd clumpy texture, and it didn't seem like a coherent mixture. I immediately tasted a strong, unexpected rum flavor, which a lot of people would like, but I don't like alcohol in my food. Eating this cheesecake isn't making anyone drunk, and who's drinking rum for the flavor? Maybe I've only ever had Americanized versions of Italian cheesecake, because after checking out some recipes online, I learned that these desserts usually include ricotta cheese and rum extract, and they are void of a crust. This cheesecake may have been exactly what it was supposed to be, but it's just not my thing.
I took home some stuffed grape leaves, which turned out to be the best item I bought. The rice was tender, the filling was creamy, and the wrapped leaves had a delicate chew. These grape leaves had the quintessential earthiness and lemony bite I was looking for. I continued to snack on them for a few days, as there was a good quantity of small servings. They have a strong taste, so it doesn't take much to satisfy one's craving.
Overall: I've only ever heard and read great reviews for Undercover Eggplant, but the first few foods I tried were inconsistent. Maybe if I experimented more with the menu, I could find a delicious meal to commit to. I would go again, but probably only if a friend asked me to.
Taste: 3/5
Atmosphere: 5/5
Service: 4/5
Presentation: 3/5
*Costs may vary slightly