"SNOWBOARDING WITH THE NYPD" was uploaded to YouTube on January 24. Americans were bombarded and awed by this two minute and forty-five second masterpiece. The nation could not escape it as it filled Facebook feeds and crossed the screens of the nightly news worldwide. As of February 6, it has over 12.5 million views.
This short film shows Casey Neistat and his friend snowboarding through New York City on the day of Winter Storm Jonas, while holding onto a rope being pulled by a Jeep.  The video is set to the song "New York" by Frank Sinatra and concludes with the cops pulling them over and one of them saying, "Someone complained about you, so we're just going to act like we're talking to you."
While watching this video, the world stepped back and enjoyed the simple and creative aspect of this idea with a sense of wonderment as the NYPD did not seemed bothered by the fact that what Neistat and his friends were doing was against the law. Considering that it was a blizzard, people were not even allowed to drive at the time that this video was being shot.
Neistat, the mastermind behind this video, is also known for making other viral videos. Along with being a daily video blogger on YouTube (with over two million subscribers), he is a film director, producer, and cofounder of a new social media app called "Beme."  With the upload of "SNOWBOARDING WITH THE NYPD", Neistat has grown even more popular as the world becomes more curious about who this man is.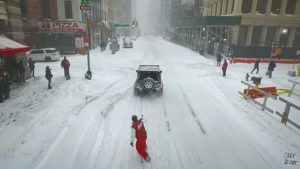 Neistat's daily vlogs depict his life in NYC working at his app company, being a father of his two children, working on new and exciting projects in his office, traveling, and inspiring people who are interested in film as they gawk at the seamlessness of his camera skills.
He didn't always have the glamorous life he has now. In a recent video Reddit did on Neistat's life, he describes his teenage years as being very difficult.  He was fed up with what all the authoritative figures in his life were telling him to do, so at 15 he ran away from home, and at 17 he had a son. He goes on to tell how maxing out a credit card purchasing his first iMac in 1999 and messing around on iMovie version 1.0 completely changed his life. It made him realize that he wanted something more and he knew he wouldn't find it in Connecticut, so he moved to New York City at 19.
What is so inspirational about Neistat's story is that he overcame so many challenges in his life that would probably get the best of many others. He has a way of knowing what he wants, throwing everything else to the wayside, and just going for it. It's an admirable and somewhat scary way to live.