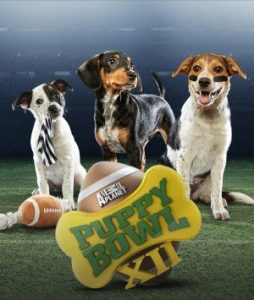 Rebecca Pollard, Culture Editor
The most exciting part of Super Bowl 50 was that it brought with it Puppy Bowl 12. For those who don't know the basics of the Puppy Bowl, it's put on each year by Animal Planet the same afternoon as the Super Bowl and features two different teams of puppies who play their own game of "football." Many times this includes puppies wandering about, napping, running in the incorrect direction, and even tackling their own teammates.
The Puppy Bowl features other animals as well, including a kitty half-time show where kittens romp around while the puppies take a break. This year Stanley the Skunk was the "Rufferee." Stanley's stripes clearly showed his Rufferee authority, and he did well issuing puppy penalties when appropriate. This year's show also included five chicken cheerleaders, who were mainly a distraction to the puppies more than anything. Meep the Bird returned this year to give live twitter updates from the puppy stadium. These tweets went directly to his account @MeepTheBird, and he was a great resource for big plays and recaps if you want to check out which puppy team kicked tail.
This year, the two teams were #TeamRuff and #TeamFluff. The starting lineup featured 49 of these team's puppy players. Every puppy and kitty featured throughout the show were, and some possibly still are, up for adoption. As entertaining and adorable as the Puppy Bowl is each year, its main purpose is to show these animals to families who might be willing and able to adopt one of these homeless pets.
According to their website, Animal Planet worked with over 40 separate animal shelters and rescue organizations around the United States in order to build the 2016 Puppy Bowl rosters. Animal Planet is also working with the Pro Football Hall of Fame to create the Puppy Bowl Hall of Fame, which will, according to the website, "honor legacy players throughout Puppy Bowl and promote the adoption of older 'veteran' animals in addition to puppies and kittens."
The multiple shelters and rescue groups that partnered with Animal Planet to create the 2016 Puppy Bowl represent 25 states and Puerto Rico including New York, Virginia, Florida, Texas, and Tennessee. The Puppy Bowl aims to promote animal adoption within people's local communities throughout the year.
The "Road to the Puppy Bowl" events this year led to over 3,000 animals finding their homes, and the network helped to cover the costs of the adoptions. If you're thinking of getting a pet at anytime, try to keep animal shelters and rescue groups in mind. Also, if you're bummed about missing Puppy Bowl XII this Sunday you can catch all the highlights and further information at animalplanet.com.