Marielle Genovesi, Arts Editor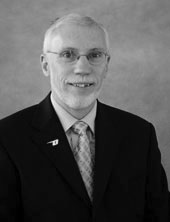 The Student Development Division at SUNY Oneonta states that their mission is to "facilitate student engagement in learning and personal development by providing exceptional enrollment services, co-curricular programs and support services, and fostering a safe and diverse living/learning community." After over two decades, 31 years to be exact, of working as an administrator at SUNY Oneonta Dr. Steven R. Perry is not only leaving behind a legacy, but he has seen this campus and college community develop and evolve over the year.
Originally from the state of Ohio, Dr. Perry began at SUNY Oneonta in June of 1984. Explaining that he first became interested in college administration while pursuing a Masters in Education at Slippery Rock University. His job previous to working at SUNY Oneonta was in Career Planning at St. Bonaventure University.
Dr. Perry has served as the Vice President of Student Development for the past 16 years. He explained that he has truly seen this campus improve from a physical standpoint, but as a student body as well, "we have improved in retention rates and improved the school profile, as well as graduation rates–this in turn improves your degree as a student, and I am proud to be a part of that."
Dr. Perry also spoke highly of the administrators he has worked with over these past years, saying,  "one of the best parts of working here is working with the team of people I do to make changes happen on this campus, my philosophy is good people, resources and stay out of the way, because I don't like to micro-manage."
When speaking about what the responsibilities he has had over his many years here, Perry states that, "my job is to think about how I can continue to help this institution improve from 10,000 feet up," and it seems Dr. Perry has done just that. He is an administrator who has inserted himself in all parts of campus, and who proudly speaks about all the aspects of this campus, whether about the achievements and improvement of the athletic department or the success and strides made by the student association. Dr. Perry states that his job "is a lifestyle" and that he feels "good about what he has accomplished at SUNY Oneonta. Perry says he has always "been committed to student success here." Dr. Perry believes that students here are provided with all the tools to be successful, and find their place in the community. He advises student on this campus to throw themselves into these opportunities and reach for success.
Although he has been here for over three decades, Dr. Perry says that as he looks back it doesn't feel like it has been that long. However, after he officially retires in June he looks forward to spending time relaxing, reading, playing golf, taking his boat out on the water with his wife and visiting his grandchildren out on the west coast. When asked what his hopes for his successor would be, he said, "I hope [for them] to have as much success as I have–and to have found the people I work with as capable and friendly as I have over the years."