Rebecca Pollard, Environmental Columnist
It is not an uncommon occurrence to be in the dining hall and see someone put a full plate of food on a tray and send it into the dish room. It may be just the food they did not finish or an entire plate they decided they didn't want or like. Due to the nature of the dining plans here on campus, mainly the unlimited dining plan, students become accustomed to wasting tremendous amounts of food simply because they can. The large majority of people do not do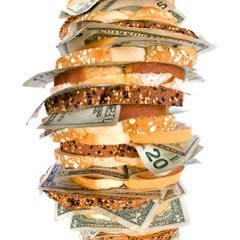 it intentionally, they just aren't thinking about the implications of their waste. However, the waste has an effect on our environment because most of it is destined to end up in a landfill. These contribute largely to the pollution of Earth by creating methane gas and polluting our ground water.
Here at SUNY Oneonta, dining management decided they wanted to change that. After two food waste demonstrations held during  last school year, students became more aware of just how much waste they were producing. In November of 2012, 160 pounds of waste were collected in just two hours at Wilsbach Dining Hall.That following January, another demonstration was held at Mills Dining Hall, where 75 pounds of waste were collected in only three hours.
As a response to these demonstrations, SUNY Oneonta Dining Services implemented the LeanPath program. Oneonta began using LeanPath in late August of 2013, just in time for the 2013-2014 academic school year. The program is designed to track food waste automatically. This is done by using LeanPath Tracker 2.0, which includes a camera, built-in-scale and a 10-inch touchscreen user interface. The Tracker transmits waste data via a wireless (or wired) connection, all in real time. All that the culinary team members have to do is place all the waste on the scale before disposing it and Tracker 2.0 does the rest.
Tracking how much waste students produce has already reduced our food waste in less than a year. Rex Smith, the Production Manager here at Oneonta, responsible for food waste analysis, menus and recipes stated that, "When we started, I found that our waste, at least in the residential dining halls, was roughly four cents per plate. Now it's down to just over two cents per plate—we've reduced it by two cents, which is very significant when you add it up. I think at the peak, the cost of our weekly waste was right around $2,000, and we're around $1,000 now—we're saving about $1,000 a week." This shows that not only have we reduced waste, which is helpful to our environment, we have also reduced costs. Overall, LeanPath has proven to be a helpful tool in the efforts to reduce our food waste here at SUNY Oneonta so far.