Hannah Griesel, Staff Writer
When Harry Styles, Liam Payne, Zayn Malik, Niall Horan and Louis Tomlinson auditioned for The X-Factor in UK as solo acts in 2010, no one could have imagined the success they would find once Simon Cowell formed the group now known as One Direction. Although the boys came in third place in the competition, their fan support continued to grow all over the world. In 2011, they released their first original single "What Makes You Beautiful," which led to their first album, "Up All Night," in early 2012. The next November, they released their sophomore album, "Take Me Home," and followed it up with a busy 2013: a world tour, a movie release highlighting their experiences on tour and a new album.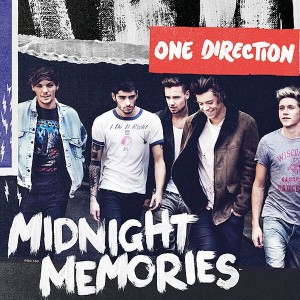 "Midnight Memories" shows a more grown-up side of One Direction than their past work. Their attempt to adapt with the times and grow up with their fans is evident. Contrasting their past two high-energy pop albums, the pop songs on this release are balanced out with more emotional tracks. This album also features more vocal solos from all the members rather than focusing primarily on Harry. They also had more of a role in the writing of the album, with eight tracks each crediting Liam and Louis.
"Best Song Ever," the first single and opening track of the album, was released in July and accompanied by a six-minute music video. The video features each member playing themselves and another character such as a studio executive or an attractive female assistant. Besides showing off their silly side and mocking their stance against choreographed dancing, the video broke YouTube records by earning over 12 million views in its first 24 hours online.
Making the boys more relatable and "transparent" is an exceptional marketing tool and it is certainly visible in the second single, "Story of My Life." The song resembles Mumford & Sons, and the video shows recreations of the boy's childhood photographs, aiming to show their lives before becoming a boy band. "Don't Forget Where You Belong" focuses on how it feels to go back home after spending so much time away from it, bringing a nostalgic feeling to the song.
A few songs manage to incorporate a rock-and-roll vibe, most notably the title track and "Little Black Dress." Brian Mansfield's review for USA Today points out that although "Midnight Memories" is certainly not a rock album, "It's definitely more guitar-based than the two previous albums." He also notes that they used rock in the way that their last album used EDM to add a new, current element to their music.
Not everyone is a fan though, as the New York Times review critiqued the group members' vocals, stating that One Direction's album "establishes how little it takes to keep a global pop phenomenon moving."
Although the reviews are mixed, it is undeniable that One Direction is a big player in the music industry today. As Sam Lansky wrote for Idolator, "It's a good record, if you can hear it over the screams of their fans."