Tracey Cheek, Staff Writer
On its third season, "American Horror Story: Coven" welcomes back some of its old cast members as well as some new actors to the set.  Creators Ryan Murphy and Brad Falchuk present viewers with a completely new storyline each season and this season continues to deliver the scares.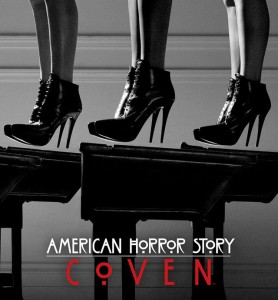 In the past we have seen the creative minds of Murphy and Falchuk take on insane asylums, haunted houses and murder. This season, they tackle heavy, powerful themes such as slavery and feminism. "Coven" takes place in modern day New Orleans, with a cast full of witches, gypsies and monsters. The coven is run by the Supreme, Fiona Goode, the strongest witch of the generation. An "American Horror Story" veteran, Jessica Lange plays Fiona, who strives to preserve her youth and will go to any extent to become immortal and keep her power.
Other "American Horror Story" veterans Taissa Farmiga and Jamie Brewer are both attendees of Miss Robichaux's Academy for Exceptional Young Ladies, where girls learn to control their witch abilities–whether that is for the good or bad.  Another "Exceptional Young Lady" is Madison Montgomery, played by Emma Roberts, and is a party girl with many intense abilities as a witch.  Madison's powers are so strong that she makes even the Supreme witch feel threatened.
Academy Award winner Kathy Bates portrays a character based on a real-life killer from the early Nineteenth Century.  Madame Marie Delphine LaLaurie was known as a true villain for her inhumane cruelty toward her slaves.  LaLaurie, who has been punished with an immortality potion and buried alive by the Voodoo Queen, is discovered and dug up by Fiona.  Almost everything has changed since Madame LaLaurie was above ground, and she is finally getting what she deserves from her evil doings of the past.
Marie Laveau, The Voodoo Queen, is also a real woman from the same time period of LaLaurie.  The Queen was both feared and sought out for help from the people of New Orleans.  She was skilled in healing and using indigenous herbs to help those in need. Tensions are also rising between her tribe and the witches of the New Orleans coven.
Lily Rabe, another "American Horror Story" veteran, plays the witch Misty Day, who is mysteriously living a lonely life in the swamps of Louisiana.  Once somebody makes contact with her, she will not let it go and will do anything to fill the loneliness in her heart.  Misty is a powerful necromancer, which means she can resurrect both animals and humans from the dead.  Although this power is strong and dangerous, it is hard to resist the kindness that Misty Day radiates.
"American Horror Story: Coven" has several storylines going on, but all of them find a way to tie together.  This show always manages to keep you on the edge of your seat, and always expecting the unexpected. Murphy and Falchuk have developed intricate details to create yet another successful and memorable season of "American Horror Story."