Vincent Crabtree, Contributing Writer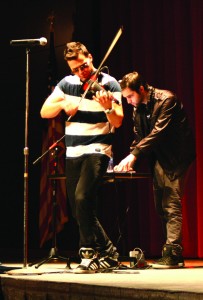 When you think about hip-hop, it's a safe bet that the violin is not something that quickly comes to mind. One person that is trying to establish that link is America's Got Talent contestant, Svet. The Eastern European native performed at the Hunt Union Ballroom last Wednesday and gave the crowd something interesting to chew on.
The set consisted of Svet playing his electric violin over some familiar hip-hop songs and also with some improvised originals. After a bit of a slow start, students began to feel a good vibe from the music, which led to some crowd sing-alongs and clapping. Svet definitely could feel the energy rising and as it did, so did the energy of his performance. By the third song the crowd was clearly comfortable with Svet's performance and from that point on the show really took off.
After each song he would talk for a bit and would give some interesting insight into how he became one of the few musicians around combining modern hip-hop with classical violin. Even though the Ballroom's large stage looked rather unfilled by only Svet's personal DJ and himself, he made perfect use of it and really got into the performance, which was evident by his dancing and movements as he played.
By the end of the hour-long set it was clear that the students who attended had a new appreciation for what they had seen and heard. Regardless of how "out there" Svet's musical vision is, it was clear that people were into it and that he may be on to something. In a day and age where classical musical instruments are far from sexy, and droned out electronic beats are the norm, Svet has truly found an interesting and entertaining way to bring both worlds together. And although you may not be hearing his music on the radio anytime soon, it's worthwhile to go online and check it out. So next time you find yourself browsing around for some new tunes and are willing to try something different on for size, Svet could be your guy.