Bobby Lemaire, Staff Writer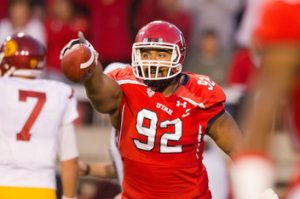 Number One Overall: Star Lotulelei, DT, Utah
Lotulelei, 23, has had a very successful college career for the Utes. Playing three seasons, he was twice elected to the First-team all-Pac-12. During his senior season, Lotulelei led the team with 11.0 tackles for a loss, along with 5.0 sacks, which is above average for a defensive tackle. At 6'4" and 320 pounds, Lotulelei will have no trouble adjusting to the pro game. The only negative with Lotulelei is that there were issues with his heart, where a test showed that his heart was not pumping enough blood. Further tests have shown that his heart is in fact working in a normal range, but the ordeal may have scared some teams off from drafting him in the top 3 picks, even though he should be number one.
Sleeper: Ryan Nassib, QB, Syracuse
The Syracuse Orange are best known for producing NBA talent, but former Orange quarterback Ryan Nassib would like to change that. In his final year at 'Cuse, Nassib consistently passed for over 300 yards, with a vastly inferior receiving corps compared to the likes of Geno Smith and Manuel. If drafted to a team with solid receivers around him, it is not that farfetched to believe that Nassib can bring whatever team he plays for to the playoffs.
Bust: EJ Manuel, QB, Florida State
There is no denying that EJ Manuel is an elite college quarterback. However, there is a vast difference between playing QB on Saturdays in college and Sundays in the pros. One major issue for Manuel is his passing ability. While he can run the ball very well, he has never shown the ability to throw the deep ball when needed. While someone like Robert Griffin III showed that an option quarterback can be successful, he also showed that they need to be a special player, and I just don't think Manuel is that much of a difference maker.
Anthony Beers, Staff Writer

Number One Overall: Luke Joeckel, OT, Texas A&M
The Chiefs have already had a very exciting offseason and are still sitting with the number one overall pick on draft day. New head coach Andy Reid, a former Brigham Young University guard, knows a thing or two about offensive linemen. Reid was essentially a general manager when he was with the Eagles, so naturally his opinion on draft day will be taken in high regards. Current Chiefs offensive tackle Branden Albert was franchise tagged earlier this offseason but remains unsigned. Regardless of the Chiefs decision with Albert, offensive line depth is too important for a rebuilding team so the Joeckel selection is essentially a no brainer.
Sleeper: Tyrann Mathieu, CB, LSU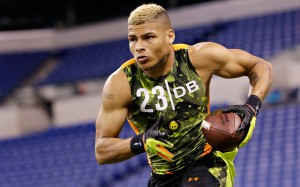 At Louisiana State University Mathieu was a dominant force beyond comprehension two seasons ago. As a cornerback and special teams return man, the "Honey Badger" was a nominee to win the Heisman. But following the college football dominance, Mathieu was suspended for an entire season at LSU due to his off the field problems. LSU head coach Les Miles reported that Mathieu was suspended because of numerous failed drug tests as a result of marijuana. A month ago Mathieu told reporters, "Putting marijuana ahead of football isn't fun anymore." Being out of football for a year and having off the field drug problems obviously makes Mathieu a huge risk, but he has showcased his potential in the past, and there's no question his ceiling is very…high.
Bust: Geno Smith, QB, West Virginia
Eugene Cyril Smith III is one of the best quarterbacks in the 2013 draft. Unfortunately for Smith, that's not saying much. This year's draft has a very limited amount of quarterback talent, so taking him is a huge risk. His college numbers are phenomenal, and heck his success in the NFL is also very possible due to the increased amount of mobility in quarterbacks the past few seasons. But if Smith is taken too early by a team that is hoping to have a quick revival, it could end up being bad for him. Recent rumors include the Bills interest in Smith with their 8th overall pick in the draft. That could be real trouble for him and the Bills.

Justin Lovell, Sports Editor
Number One Overall: Luke Joeckel, OT, Texas A&M
Nearly every year, there is a player that is unquestionably deserving of becoming the number one overall pick. Last year, there were two with both Andrew Luck and Robert Griffin III in the draft. This season however, there are a few great players, but none that stand out above the rest. Currently, Luke Joeckel, tackle from Texas A&M, is the projected first pick. This pick makes a lot of sense to me. The Chiefs, who hold the first pick, were awful last season and need help everywhere. The left tackle position is arguably the most important on the field, as they are in charge of protecting the quarterback's blind side. Joeckel is the ideal left tackle. He is huge, 6-6, 306 pounds and only 21 years old. If I am the Chiefs though, I am working the phones this week trying to deal the pick and move down to fourth or fifth overall. They wouldn't get Joeckel, but they would get another left tackle, Eric Fisher instead, who is even bigger and has great potential, he just isn't as polished yet. Though taking a tackle with the first pick isn't flashy, it is an important building block to making a team great again and the Chiefs seem to understand this, especially since last week they gave current left tackle, Branden Albert, permission to speak with the Dolphins.

Sleeper: Manti Te'o, ILB, Notre Dame
A few months ago, Te'o was a top 5, at least top 10 pick. However now, as we are less than a day away from draft day, he isn't even guaranteed to be a first round pick anymore. Obviously, the much publicized girlfriend incident hurt his stock, regardless of whether that is fair or not. Then at the combine, Te'o significantly underperformed which rightfully hurt his stock. All that being said though, I believe Te'o will still become a quality player in this league. He will never be a defensive player of the year candidate but certainly should be a solid starter someday. A team like the Broncos, that has a quality defense and he wouldn't be the star would be the best fit for him. He wouldn't need to lead the defense, he would just have to go out and play, which Notre Dame fans know he can do.
Bust: Marcus Lattimore, RB, South Carolina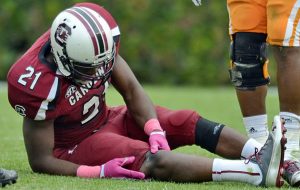 Lattimore has everything general managers look for in a running back, speed, strength, quickness and a nose for the end zone. The only negative he has is durability. Unfortunately for Lattimore though, it is a huge question mark and GM's would be wise to avoid him. In his three years at South Carolina, the running back has suffered two devastating knee injuries. In today's NFL in which running backs are not nearly as important anymore, using a high draft pick on an injury prone running back seems like a waste. If Lattimore could somehow establish himself as a healthy option, his skill set will get him a job, but I don't see that happening.