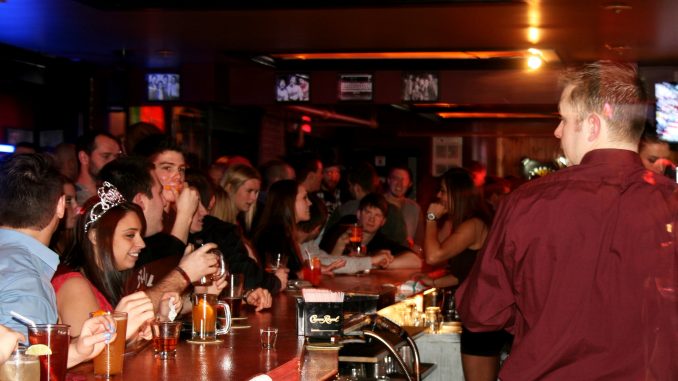 Laura Arias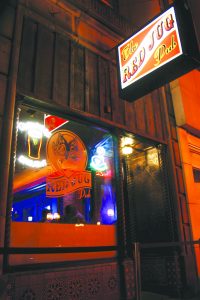 They may be the new kids on the block but they have been serving college students in the city of Cortland for seven years, making a name for themselves as one of the friendliest bars in the city. From "The Crown City" to the "City of the Hills" comes The Red Jug Pub, Oneonta's newest bar. 195 Main St., where previous bar The Old Spanish Tavern was located, has been born with what owner Barry Shaver hopes to be the best bar in Oneonta.
Shaver says that the bar is unique from some of the other bars in town because it is fun yet "low-key." Donning a mellow vibe has given it a distinguished atmosphere of all around entertainment with video arcade machines, dart boards, flat screen TV's streaming sports channels and a "smartphone-like" jukebox powered by touch tunes. This jukebox, which is already making waves, plays virtually any song that is available on the Internet and for just a dollar, one can play two songs of their choice. Shaver says that he likes the idea of the crowd listening to whatever they want and the jukebox makes this possible, offering people their choice of music and giving everyone a chance to listen to what they like. For this reason, Shaver prefers the jukebox over featuring DJ's.
These entertainment models coupled with the pub's vast lager and ale selection, attracts both the student and the local population. Shaver affirms that local residents find refuge in his bar after they have been working nine-to-five, using it as a place to relax and grab a beer or two before heading home. He mentions that the bar's character tends to change at night when the students take over with hopes of relieving their stress from schoolwork by socializing with one another.
The Red Jug Pub's grand opening was just a week ago, as students hurried to get a taste of the fresh new bar, wishing it to be as enjoyable and exciting as they anticipated. The Red Jug Pub has taken to Twitter hoping to get students excited about their next trip to the bar. With the attention of 428 followers, the bar's Twitter page, @RedJugPubOneonta, is used to post daily updates on drink specials as well as encouraging blurbs that seem to get the students riled up for some cold drinks and a lively scene, taking full advantage of social media as a marketing tool for the Oneonta college demographic.
Last Saturday The Red Jug got a taste of Oneonta's student population first hand, particularly from SUNY Oneonta's informal celebration of St. Oney's Day. The pub celebrated the student-dubbed holiday, which was born last year to replace St. Patrick's day after it had fallen during SUNY Oneonta's spring break, by making "green beer" and offering Irish whiskey. Shaver shares that he has not yet gotten all of the green dye from his hands. Similar festivities will be taking place on St. Patrick's Day this Sunday, with more green beer and some St. Patrick's Day decorations. After a successful grand opening and highly eventful weekend, Shaver can say that he is "extremely excited to be here."
In Cortland, The Red Jug is known to be the place to go for "cold beer, and nice folks," a slogan which has stuck there and seems to be already picking up here. But while many have been won over by the welcoming charm of this new bar, as with any addition to Oneonta nightlife, others are not so fascinated. To SUNY Oneonta student Eric Pacicca the scene was, "kind of boring…there was no DJ and I couldn't really hear the music that was playing. Also, trying to get to the dance floor was nearly impossible because everyone was standing by the bar which is at the front. Overall I give it a one out of five."
The bar's hours of operation are 2 p.m. to 1 a.m. Monday through Thursday, 2 p.m. to 2 a.m. on Fridays, Noon to 2 a.m. on Saturdays and Noon to 1 a.m. on Sundays. With a fresh new look, great customer service, mellow yet fun atmosphere, The Red Jug Pub is making a name for itself in a town dominated by bar culture.