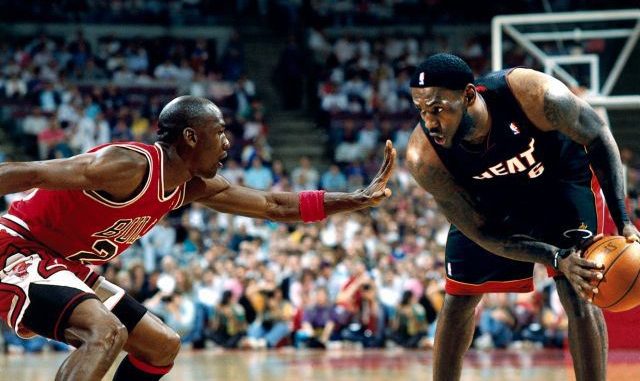 Justin Lovell, Sports Editor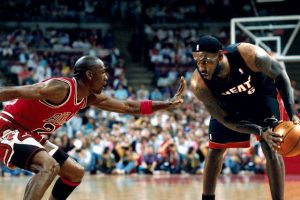 Michael Jordan vs. LeBron James. The debate over which player will be the greatest of all time has raged for years. Jordan is considered currently the greatest ever and James is considered the greatest of this era, but can James really become the greatest of all time?
In Jordan's storied career, he was able to win six NBA championships, six finals MVP's, five regular season MVP's, make 14 All-Star games and was the 1988 defensive player of the year as well.
To me, this isn't a debate yet. Jordan is clearly the best right now and to compare them is ridiculous, especially with James still in his prime. When James retires, that's when the debate should pick up again and when it does, I believe James will be considered the greatest of all time.
James is only 28 years old and already has three MVP's with a fourth on the way. He is a nine time All-Star and was finally able to get that championship that had eluded him for so long last season. By the time James calls it quits in another decade, I would bet he has more MVP's and he could even have more championships than Jordan.
Even if he doesn't match Jordan's title totals, that shouldn't hurt him. People put too much stock and importance into winning championships. Some of the greatest players ever, such as Patrick Ewing, Charles Barkley and Karl Malone, never won a title but are still legendary players. On the flip side, Derek Fisher has five titles, the same as Kobe Bryant and Robert Horry has seven, which is more than Jordan, the greatest of all time. It is examples such as this that make me not value championships and their importance as much as other people do.
Overall, I think James will be the best ever when he retires, no question about it. The real debate is whether people will agree with me or if they will still consider Jordan better.
Anthony Beers, Staff Writer
One word comes to mind with the Jordan vs. James debate: pointless. It's not only an irrelevant argument, but it's also disrespectful to the game of basketball. By constantly glorifying these individual players it really takes away from the team efforts the Chicago Bulls and Miami Heat both have had. Jordan had the opportunity to be great in Chicago because of the terrific players and coaching around him. The Bulls won six championships in the 1990s and something like that can't be accomplished by just one player. Jordan's leadership was vital, but portraying him and only him in remembrance of that dynasty is foolish.
Of course, the same thing can be said about James. The Heat are coming off last year's championship title, James' first ever as a professional. But again, it could not have happened without the players and coaching around James to provide that opportunity. Why even look at it any other way than that? James' recent stretch of games in which he had seven consecutive games of shooting over 60 percent, while still scoring at least 30 points in each of those games, is of course a mind blowing statistic. But it's only made possible due to the fact that he is able to thrive in Miami because of everyone else on the team.
So when ESPN chooses to dedicate an entire week of coverage debating whether James or Jordan is the better player simply because it's Jordan's 50th birthday, they're in essence portraying the game of basketball in a bad light. Focusing on one player's accomplishments constantly through the media is what creates these egos in the NBA that fans know all too well. It's exactly why there are seven foot crybabies in the league that get exactly what they want, how they want it and when they want it. Not only that but James and Jordan played in two completely different eras of basketball.
The debate is irrelevant and of course it never includes the fact that Jordan is currently the owner and chairman of one of the worst teams in basketball, the Charlotte Bobcats. ESPN naturally doesn't mention that the Bobcats are coming off the worst winning percentage in NBA history. The point is, the debate is manipulative because fans don't get all the facts about the players and the teams they're on. NBA fans are better off appreciating the essence of team basketball and chemistry that unfortunately is becoming more of a rarity throughout the league. Keep in mind the best record in basketball remains with the San Antonio Spurs, a team with great coaching and players dedicated to the success of the franchise. Fans won't be seeing many specials on ESPN about the Spurs, but they're by far the best team in basketball, and that's really all that should matter.