Cady Kuzmich, Staff Writer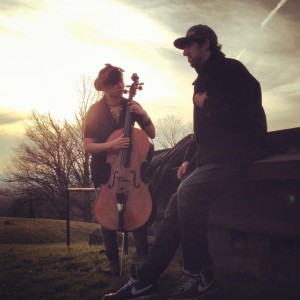 Melanie Hsu grew up on the classical cello, while Josh Smith is a poet who likes to rap. Naturally, the two formed a band. Originating in Wesleyan College, the duo joined forces to create music that guarantees to impress.
Calling themselves Mel and Josh, the band started out performing intimate sets in living rooms back at Wesleyan, but have increased their following and have since taken to the studio. Their sound combines elements of classical cello, hip-hop, rap and soul. Their album, "Analogue," challenges our categorical minds, so used to labeling everything we come across. Mel and Josh create music so beautifully original, it refuses to be constrained by a single genre.
The title track, "Analogue," begins with Mel on the cello. Simple enough. The music slowly builds from sparse plucks into a funky beat that Josh raps over. Josh's poetry flows against the rising cello in a deep baritone. Just when you thought you had pegged the duo as another one of those cello-rap albums, Mel's soulful voice leaps out at you. The two skillfully weave their distinct sounds together, creating something that makes you wonder why you've wasted your time listening to anything else.
It's hard to pinpoint one standout track on "Analogue" as each song is powerful in its own way. I found myself listening to "This is for me" on repeat. On this track, Mel sings about "The nights when we clutched each other's hands walking down the streets of Harlem. There was no safer place than you." She goes on to sing "The times that we drove with the windows down under a V of flying birds and you would know what I was thinking." Mel's voice is smoky and sweet as honey, like a gutsier Norah Jones with a cello.
The album is laced with lyrics that pack a punch and tell a story—straight poetry. Mel and Josh will melt your heart into a sappy mess then reconstruct it only to melt it down again. By the end of the album you'll be emotionally exhausted, but soon your hand will guide the arrow on your screen towards the replay button.
Josh provides a narrative that puts you on the edge of your chair, or the tips of your toes if you're the dancing kind. The two blend together smoothly and the end result is spine tingling. You can feel the energy between the two; it's powerful and natural.
"Analogue" feels short with only six songs, but does the job and shows off the group's versatility. Whether it's warm and jazzy, sentimental spoken word, or Josh showing off his chops over Mel's funkified cello, the two nail every song. "Analogue" has something for everyone. Well maybe not everyone, sorry dub-steppers, this one might not be for you. For those who do want to hear more, Mel Hsu and Josh Smith have solo work which is worth looking into as well.
You can listen to Mel and Josh's album "Analogue" in its entirety on their bandcamp page; melandjosh.bandcamp.com/album/analogue.