Alex Fredkin, Arts Editor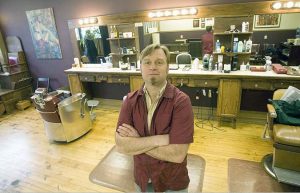 Immediately upon entering the Crystal Palace Barbershop, it is apparent that the establishment has a different vibe than most. Paintings and old photographs adorn the walls. There are no televisions, only the sounds of classic rock radio and conversation in the background. And the back half of the dwelling holds everything that you would need for an impromptu jam session: microphones, guitars, amps and even a full drum set. Crystal Palace is a place unlike any other.
Owner Randy Miritello is the man who brought it all to life. He opened the shop up in early 2011, and it has made a name for itself as representing the traditional barbershop feel that is becoming less common today. "I wanted to provide all those real old-school services that nobody else does," he said.
These include techniques and tools that most hair salons wouldn't use, as Miritello notes "The biggest distinction is we are one of the only places that'll do a straight-razor shave."
Many people these days go to a hair salon to get the cheapest haircut they can, and don't give any thought to the atmosphere of the establishment or the fact that getting a haircut can be more of an experience.
Miritello adds "I want it to be about music and conversation, and having a good time."
Patrons coming in to the barbershop can expect to engage in some banter, but making sure patrons receive the haircut they are looking for is the main priority–"I want people to leave feeling good about their haircut," Miritello says.
The Crystal Palace is especially unique because it also functions as a music venue, hosting occasional shows, including one on First Night this year.
Miritello is a singer/songwriter himself, and saw the extra space in the barbershop as a great opportunity. On where his idea came from to combine a barbershop with a music hall, he says "It's my other passion," and adding "Any time you can turn a space into a venue that's a good thing."
He likes having that diversity and also the ability to attract a different crowd to the barbershop, noting "It gets people in the door to turn them on to the space for barbering that might not find it otherwise."
Hosting concerts, as well occasionally renting out the space to function as a rehearsal room, is part of the overall ambiance of the barbershop. It is much more than just a place to get a haircut.
Miritello has noticed that the energy of the shop is catching on, and more and more people are checking it out, commenting "We have a good solid base of regulars that come in, and as that grows you really start to notice it exponentially over time."
The Crystal Palace Barbershop is not a destination only for residents in town; students enjoy the old-school feel and one-of-a-kind experience of the shop as well. Miritello has found that after students come to the barbershop for the first time, it usually becomes their go-to place from then on. He says, "What's funny is we have a lot of guys that go to school here that would never think about getting a haircut while at school. But once they get their hair cut here they don't get their haircut at home anymore."
He sees this as the ultimate test that what the Crystal Palace is doing works, adding "I take it as a high compliment."
The Crystal Palace has tapped into a specific niche in Oneonta and is establishing itself as a unique take on the traditional barbershop idea. By combining a love for the arts and music with professionalism and, as Miritello puts it, "top-notch services," the Crystal Palace is becoming a place that students and residents appreciate, and therefore they continue to come back for more.