Joshua Burger, Contributing Writer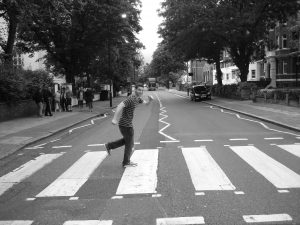 I chose to participate in a study abroad program during the summer of 2012 through the College at Brockport. My educational exoerience took place at the University of Westminster, located in central London.
I decided on this program because I wanted to experience living in London while taking an academic course required for my major. I recommend submitting applications to more than one school, just to be on the safe side. Personally, I applied to two and was accepted to both schools.
I took principles of marketing so that I could have one less course to worry about when returning in the fall. Interestingly enough I had two professors for this course who would switch off between the days they would teach. I liked this approach because it allowed me to learn from two different perspectives.
One day my class went to the Museum of Brands, Packaging and Advertising and another day we went to the Olympic Park to go on a walking tour of the vicinity. There was still a lot of preparation to be made considering the Olympics were about a month away, so we did not actually get to go inside of the complex, which did not open to the public until the first day of the Olympics. It was very interesting to learn that the reason the Olympics were held in London was to boost the economy in this not-so affluent area of Stratford, London.
What I liked most about this program was that even though we were there to learn, we were also there to explore the city and enjoy ourselves. That is what made my experience at the University of Westminster so enjoyable.
Aside from the academic program I attended, I wanted to make my trip extra special. I decided to extend my stay for an additional three weeks. This of course was premeditated. I purchased a Eurail pass that allowed me to travel to 23 different countries in 21 days. I first traveled to Amsterdam from London, then to Germany to visit Berlin and Munich. I then went to France (for their escargot) and to climb the Eiffel Tower in Paris. From Paris I traveled to Bern, capital of Switzerland, and experienced some of the most beautiful sites I have ever laid my eyes on. I managed to go canyoning and canyon jumping in Interlaken and rented a boat in Luzern, which apparently one does not need a license to drive.
After my adventurous activities in Switzerland, I made my way over to Italy which would be the last country I would visit during this trip. Some of the cities I visited were Milan, Venice, Bologna, Florence, and lastly Rome where I departed. What made my experience in Italy unforgettable was visiting a friend who I had met in London. My friend, Lorenzo was from Bologna but decided to stay with his uncle in London for a few weeks. We decided that since I was planning on going to Italy, that I would visit him in the city where he grew up, Bologna. We stuck with our plans and a few weeks later Lorenzo was giving me a tour of this interesting city. We drove through the mountains where we drank cappuccinos while overlooking the fabulous views this city has to offer. We ate at a trattoria where the tagliatelle was hand-rolled and the ragu was a favorite. After dinner we met up with a couple of Lorenzo's friends who were very welcoming.
This trip made me learn how to be more independent, follow instructions carefully, tackle problems, go out of my comfort zone, and many more life lessons. These may seem like basic skills but they are what allowed me to gain a life-changing experience. I will hold on to these memories and use these skills for the rest of my life. I highly recommend taking initiative and exploring the world, literally, because there will be some point in your life when you will be in a new environment and no one is going to be holding your hand. So why not start now?