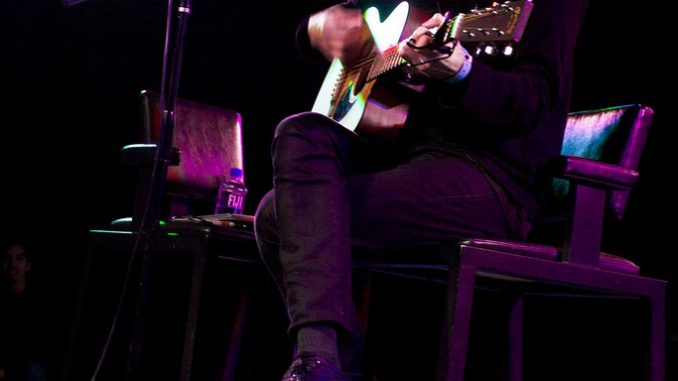 Michael Bonanni, Senior Staff Writer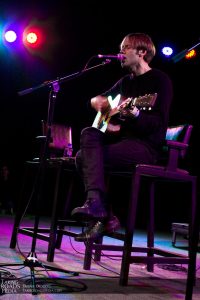 Warped Tour has come early this year as the Acoustic Basement Tour arrived in Oneonta on Monday. Oneonta is the fourth stop on the tour and is only one of two college venues listed. The line-up for the show included Geoff Rickly of Thursday, Vinnie Carauana of I Am Avalanche, A Loss For Words, Koji, Brian Marquis of Therefore I Am and Oneonta's own Steve Layman.
The idea for Acoustic Basement was started by Marquis in the middle of the 2011 Warped Tour. "I wanna make it its own thing" said Marquis, which he did by having the tour during the winter months. He said that touring is usually slow during the winter and it helped to have a cozy intimate show when everyone wanted to be indoors.
The crowd was at a decent size for a cold Monday night and was warmed up by Layman. He started the show off by essentially sitting on the floor and gathering everyone around him. He commented later that he did this to "start the show right," but also because he didn't have the means to plug his guitar into the PA system. Despite feeling a bit of pressure, Layman definitely did Oneonta proud with his fun and catchy songs.
Next was Marquis who brought with him both energy and a harmonica. He seemed to really enjoy the crowd and responded with a nice bluesy sound. Everyone was really into the performances and the energy definitely carried over for the joyful and playful Koji.
At this point the audience had spaced themselves a bit, but Koji brought everyone close again. He sang a good mix of old and new songs, including a brand new one that will eventually be released on his next album.
Between Koji's set and all the other artists that played, there were many sing along moments to be had. Sometimes they were well-known songs from each performer, but often it was just a simple "ah" or "oh" that the crowd would harmonize with. It illustrated what Marquis was going for when he started the tour, creating that feeling of closeness that isn't achieved at large, high octane electric shows. Koji has been coming back to Oneonta for a couple of years and says that Oneonta had "some of my favorite house show memories."
Rickly closed the show with a clean electric set of his own songs and a couple of covers. He commented during his performance "Koji brings the positive, I bring the bummers" but they were really wonderful and intense bummers. Rickly did play a fun cover of an Usher song and fight what he called Rockism, which is the belief that rock music listeners can't appreciate R&B, radio pop or any other music. Rickly mainly came onto this tour due to his troubles finding a place to live after giving up his apartment and not getting along with his roommate; this tour was an outlet for him . He ended the show with a Thursday song "Turnpike Divides" from the last album before the Thursday break up, "No Devolución." It was a great end that literally echoed throughout the room as Rickly played it sitting with the audience on the carpet, mirroring how the show had begun.
All the artists did an amazing job and Oneonta should definitely welcome any one of them back. The playing was really spot on, even at the end of Koji's set when he broke a string. Marquis said that he hopes to add more female acts in the future such as Billy the Kid and artists of diverse genres, including Austin Lucas. Overall, this much talent at once was hard to believe and truly felt like Warped Tour had made a stop at Oneonta for the night.