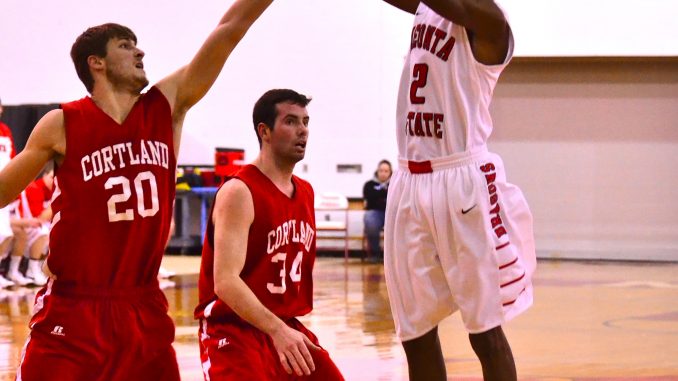 Justin Lovell,Sports Editor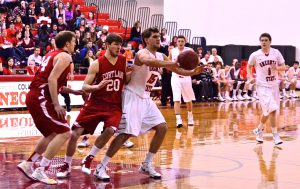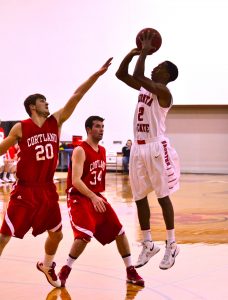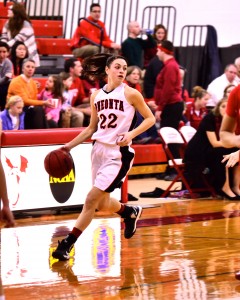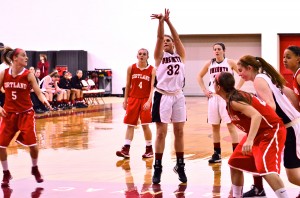 Pictured Above Right:
# 15, Forward Nick Sarchioto dishing the ball out during last Tuesday's 64-54 loss to Cortland during the annual Battle of the Red Dragons.
Pictured Above:
# 2 , Guard Terrance Parker (Oneonta State) rising above Cortland guard John Connolly for a shot. Oneonta Men's basketball currently stands at a dismal 2-15 overall and 1-10 in the SUNYAC conference. However, hope remains for the men as they play some key games coming up this week, starting Friday when they host SUNY Plattsburgh at 8 p.m. and SUNY Potsdam Saturday at 4 p.m.
Pictured Right:
# 22, Guard Kristin Pappalardo handling the rock during last Tuesday's 74-70 win over SUNY Cortland during the women's Battle of the Red Dragons. The women are in slightly better shape than the men, with an 8-10 record overall and a 5-6 record in conference play.
Pictured Right:
# 32, Guard Bryn Loomis shooting a free throw against the "other" Red Dragons last week. The women like the men, play Plattsburgh and Potsdam this Friday and Saturday, with their games staring at 6 p.m. and 2 p.m. respectfully. Come out and show support as both teams march toward SUNYAC's.