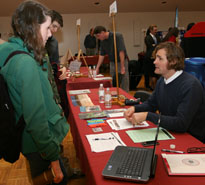 Kate Koenig, Editor-in-Chief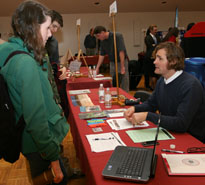 For those of you graduating this school year or looking to get a head start on your career, the Career Development Center (CDC) will be hosting internship fairs for students in January and February of 2013.
The New York City Internship Fair, which is being held on January 11, 2013, will be hosted at the Borough of Manhattan Community College (BMCC). Located within a popular region for internship obtainment, the event provides students with an opportunity to learn about internships that can be acquired in New York City with a variety of organizations. Students are required to register for this event. Unfortunately, due to the recent effects of Hurricane Sandy, registration is currently closed, but will reopen soon once arrangements are confirmed by BMCC.
The other event to plan for is the Summer Opportunities Internship Fair, also coordinated by the CDC, which will be held on February 13, 2013. The focus of this event is more local and regional employers, stretching out to the Albany, Binghamton, Utica, and Syracuse as well as organizations in Oneonta. While the event is mainly for coordinating summer internships, it also provides a great opportunity for networking; many local organizations take on interns all throughout the year. According to Megan Ackley, Internship Coordinator with the CDC, recruiters' participation in last year's Summer Opportunities fair totaled 34 organizations, and they hope to have even more expansion this upcoming February. Students are also required to register for this event.
The Career Development Center has organized a preparation workshops so to ready students for the internship fairs. Tomorrow, on Tuesday, November 27, a networking strategies workshop will be held in IRC 4 from 5:30 to 6:30 p.m.
Students are encouraged to bring in resumes and cover letters to the CDC for critique. If you are interested in attending either or both internship fairs, it is recommended that you wear professional attire.
To register or find out more information about these events, email [email protected], or visit DragonLink, the Career Development Center's internship database, where announcements and other information is posted on internship and career fairs locally as well as in different locations open to all students.