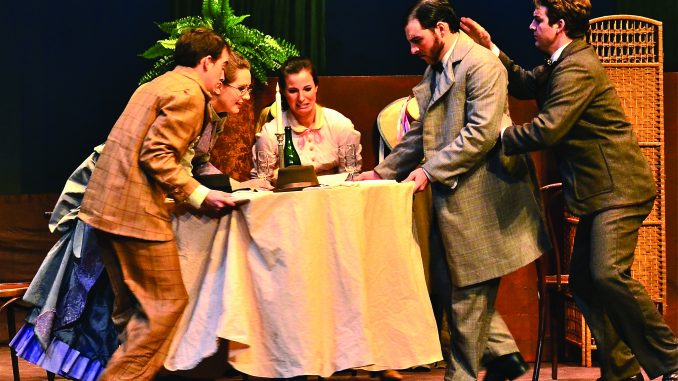 Michael Bonanni, Senior Staff Writer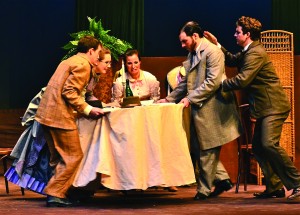 From November 7 to the 10, the Mask and Hammer theatre club put on the Thornton Wilder play "The Matchmaker" in the Fine Arts building's Goodrich Theatre. The play ran for two to three hours and as Barnaby, played by Josh Santiago, announced at the end of the experience, the play centered around leaving one's comfort zone to go on an adventure.
"The Matchmaker" centers on the miserly businessman Horace Vandergelder, played by Alexander Kanter, in the early twentieth century. Vandergelder is trying to stop the marriage of his niece Ermengarde, played by Kat Ricigliano. At the same time Vandergelder's poor treatment of his employees Barnaby Tucker and Cornelius Hackl, cause the duo to rebel against protocol and go on an adventure (Cornelius Hackl was played by Jared Barton). The result of these two actions falls into the plans of matchmaker Mrs. Levi, played by Melissa Trainor, who uses the situation to win the heart of Vandergelder.
Each character seemed to have some sort of extreme flaw that made for comical situations. Student Julia DeMarte said her favorite parts of the play were "any part with Mrs.Van Huysen." Her friend and fellow student Jessica Halpin agreed, "She was hysterical!" At one point this character, played by Samantha Nugent, mistakes Barnaby for a woman and after the discovery, Mrs.Van Huysen only remarks that it was "disappointing." This play was certainly packed with hijinks as the characters were faced with severely inconvenient situations resulting from the influence of Mrs. Levi. Despite many of the situations seeming a bit dated or cliche, the character made it fresh and funny. A lot of them have their flaws exploited, such as Barnaby's innocent naivete, Mrs. Van Huysen's dementia or Minnie Fay's fear of men, played by Rosalee DeHuff.
The play was also impressive since many of the main actors were just making their stage debuts, including Dylan Bressler, who is more known for his musical talents. Bressler put down the guitar in favor of a luggage case and suit for his role of Ambrose, Ermengarde's fiance. "It got me to see a whole different side of how things are put on," said Bressler, "instead of wearing what I wanted, I had a costume." He came to the theatre side of the fine arts building after not making the cut for the school's various bands. "I still wanted to do something in entertainment, so I decided to try out for the play." He also had the role of the French waiter dubbed August, which allowed him to have an acting double for his Ambrose role when the character had to carry Ermengarde in one arm and luggage in the other.
Overall, the play was well done and a great debut for the actors and actresses who made their first appearances. For students such as Halpin and De Marte, it will hopefully mark the first of many plays they'll see. "At first, I thought it would be kind of boring until some friends told us to come and I loved it" said DeMarte. As for Bressler, he said that this will most likely be his first and last appearance on the acting stage. "It wasn't my bag; I gave it a shot and tried something new. I learned a lot but now I'm gonna give 100 percent on recording and shows." This show had an audience and a cast who exemplified the show's theme of trying new things and taking a chance.