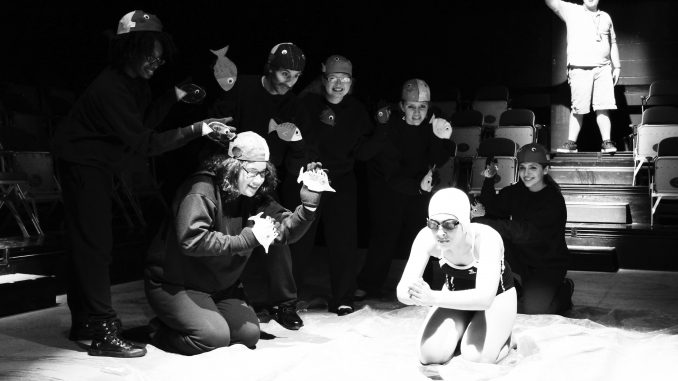 Kate Koenig, Editor-in-Chief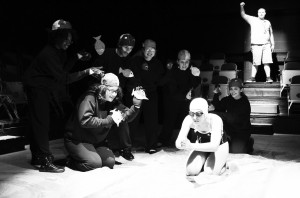 This past Sunday marked the closing of the most recent SUNY Oneonta Mask and Hammer production, "The Cuban Swimmer/Dog Lady." The play, which was actually a double feature comprising of two one-act plays, was written by Milcha Sanchez-Scott and student directed by Austin McCaslin-Doyle.
Both stories behind "The Cuban Swimmer" and "Dog Lady" are surreal. "Cuban Swimmer" presents the audience with its young female protagonist swimming across the Gulf between Central and North America, with four members of her immediate family flanking her on sides front, back, left and right. The play is an extended metaphor for her personal struggle with her identity as both an American-born Cuban and a Latina with Cuban heritage, and her family's unrelenting will to influence her.
The production of "Cuban Swimmer" featured some rather exciting aspects; the audience was introduced to the aquatic setting through fish-costumed cast members, with their costumes highlighted under a black-light as they intermittently circled the breast-stroking protagonist. The stage floor was designed for the production to appear like a swirled ocean current, and gave off an interesting Van Gogh effect. While the story was provocative and challenging to the audience from its allegorical standpoint, much of the acting unfortunately felt stiff. The characters were frequently required by the script to use Spanish expressions, and rarely succeeded in speaking in believable accents. Exceptions to this were performances delivered by senior Prissly Mena, who played the grandmother of the protagonist, and freshman Lisa Warner, who played the protagonist Margarita.
Where "Cuban Swimmer" may have been lacking, the second act's "Dog Lady" made up for it. Excellent performances given by Ashley Antwi, who played the neighborhood voodoo healer, and Warner, this time playing a disgruntled teenager, kept the audience laughing uncontrollably. The story is a similarly bizarre one, as the young female protagonist finds herself temporarily transformed into a dog, retaining her human form as she terrorizes the neighborhood and yaps incessantly at passerby. A high point of this act was a scene in which every character is present and collectively in a state of chaos, and for a split second the cast plays the chaos in slow motion. With the combination of effects such as these and the off-the-wall performance delivered by Antwi, "Dog Lady" was of endless entertainment value, all the while providing as much thought-provoking allegory as did the play of the first act.
Mask and Hammer's upcoming performances include Thornton Wilder's "The Matchmaker" this November 7 to 10, Shakespeare's "As You Like It" in March of 2013, Gina Gionfriddo's "After Ashley" in April of 2013 and George S. Kaufman and Morrie Ryskind's "Of Thee I Sing," with music composed by the Gershwin brothers later that April. If you are interested in getting involved with the upcoming productions, visit Mask and Hammer meetings on Mondays at 4 p.m. in Fine Arts room 103.