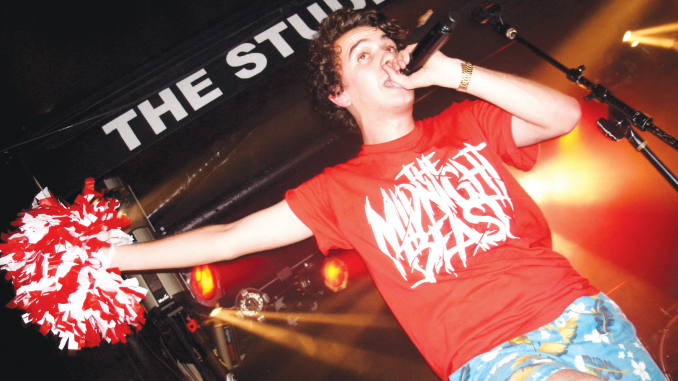 Selina Policar, WONY Programming/Indie Director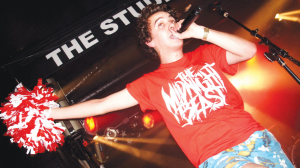 Close your eyes and imagine spending nearly a week in New York City, going to panels on the music industry. Now, imagine getting to choose from a selection of over a thousand live shows to watch for free that week. This is the annual CMJ Music Festival, which this year ran from the 16 to the 20 of October. WONY, SUNY Oneonta's radio station, sends down a group of students each year to meet with contacts and learn at the panels. We learned many things, but you don't really care about the panels, do you? No, you want to hear about the music — and so you shall!
The conference, for me, started off with a New Zealand showcase, where I saw Tom Lark and Lawrence Arabia. Both were talented indie artists with stage presence. The next band I saw that night was outstanding! A French band called We Were Evergreen put on an electro-pop performance featuring not only a xylophone, but a trumpet and a ukulele. I don't know about you, but I think that makes a pretty interesting combination of instruments. We Were Evergreen was a good end for a great beginning to the festival.
On Wednesday afternoon I saw a wonderful performance by Generationals, and that night, four of us from WONY went to see The Hiding. The Hiding is apparently an incredibly popular band in Australia, and we ended up hanging out with them for the rest of the night. If I were to recommend only two bands from this week for you to check out (even though you should listen to them all), The Hiding would be number 2, because they put out some truly excellent tunes. Vagina Panther (the band for which the Hiding opened) had some good music, but rather mediocre stage presence. I'd recommend checking them out, but I wouldn't recommend seeing them live.
Thursday was basically an entire day of panels — which was awesome! But Friday night, a group of us went to go see a British comedy band called The Midnight Beast, who I've been a fan of since 2009. I could probably write an entire article on how great they were. I got to meet them after the show, and they were just as cool as their music is — and they're the number 1 band I would tell you to check out.
After that show we went right next door and got to see Kimbra. She's relatively popular these days after the success of Gotye's "Somebody That I Used to Know," and her show blew me away. I would bet money that she'll actually get somewhere with her career now, because that girl has great pipes. The band opening for her, The Stepkids, put on an extraordinarily trippy show reminiscent of what I would imagine the afterparty of a Bee Gees concert to be. Sadly, Friday did eventually end.
Saturday was full of great music as well, so no worries on my part! Gold Fields put on a great dancy trancy show, and there was a British/American hybrid showcase that night. Some bands from it include Rumors, who are a great band, and the Midnight Hollow, who were just okay. Hits is a really great group, and I think you should check them out too.
Two more bands played and there was a decent indie act called Lovelife and Busy Living, before I saw The Midnight Beast for a second time (and they recognized me!).
Every year, when CMJ ends, there's a good amount of recuperating that needs to be done. I can say for a fact that despite my sleep deprivation and having walked probably over 100 miles, I enjoyed myself.
Even more importantly, WONY discovered dozens of new bands to play on air and possibly even to try and book for shows. My experience with CMJ is of course not the same as everyone else's, but, I can say for sure that it was a success for all. And that's what matters!
For info on all of the events that occurred, visit www.cmj.com/marathon, and if this at all sounds like a fun experience to you, start making your plans for next year!