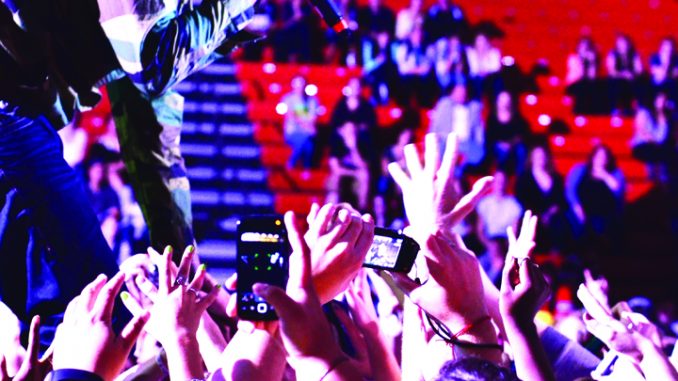 Alex Fredkin, Arts Editor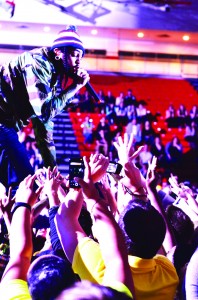 The parents of many SUCO students returned to campus for this homecoming weekend, and Oneonta was lucky enough to have the home-grown Gym Class Heroes return as well. Forming in Geneva, NY, where vocalist Travie McCoy met drummer Matt McGinley during their high school gym class, Gym Class Heroes has been representing upstate New York since its debut album "…For the Kids" was independently released in 2001. Oneonta has an even stronger local tie to the band than just that; bassist Eric Roberts grew up in Edmeston, New York, which is just up the road from Oneonta. And lastly, McGinley was a student right here at SUNY Oneonta. He was a music industry major, and played with the band while he attended classes. McGinley left school after three years to pursue Gym Class Heroes full-time after they signed to Pete Wentz of Fall Out Boy's record label Decaydance Records. The massive success of the single "Cupid's Chokehold" off of their second album "The Papercut Chronicles" (which came out while he was still in school) also contributed to his decision.
Gym Class Heroes was forced to cancel almost all of their fall tour due to some recent hospitalizations and health issues with McCoy. The band wanted to make sure that they could play this date, and Travie recovered in time for that to happen.
The band put on a memorable show at the Dewar Arena on October 27. They wasted no time in getting straight to their best songs, playing one of their hardest rock tracks "Martyrial Girl$" second, and following that with "Cupid's Chokehold," the platinum-selling single that catapulted the band to national success back in 2006.
Gym Class Heroes talked a lot about their local connection, and was genuinely grateful to have the opportunity to play here. Before one of the songs Travie talked about the nostalgic feeling of being back in the upstate weather. He said he lives in Miami now and misses the environment of the area. He also said that the band played at Oneonta back in 2002 while McGinley still attended college. It is very humbling to know that a recent student from this college made it big and now plays music to millions of fans across the world.
Gym Class Heroes created a fun-filled and relaxed environment where everyone could let loose for a few hours and just enjoy themselves. The band was really big on audience participation, and took every chance they could to get people involved. Each song had long interludes where Travie would give some background info on the songs and tell the story behind it while the band would jam out in the background with funk and hip-hop inspired performances. At times these breaks were too long and got a bit boring, but in most cases they served to immerse fans into the show.
Before one song he told everyone to introduce themselves and give a big hug to a stranger to the left, and then a stranger to the right, allowing people to make some new friends at the show. He also spoke a lot before the song "The Fighter" and its meaning, stating that the band had to go through a lot of hard work and struggles in order to achieve the success that they have today. Travie brought a girl on stage who was celebrating a birthday that night, and she danced with the band during this song.
The highlight of the night was without a doubt the song "Clothes Off!!" This song helped the album "As Cruel as School Children" to be certifed as Gold, the band's highest selling one to date. The chorus to the song goes "We have to take our clothes off to have a good time," and apparently the Oneonta crowd can relate to this quandary. One bra mysteriously appeared on stage during the song, and Travie picked it up and put it on his mic stand. This started a chain reaction as an avalanche of bras cascaded onstage. By the end of the three minute song Travie had an assortment of over ten bras hanging from his mic stand, including several pairs of underwear too. The microphone couldn't even go back into the mic clip due to the amount clothing draped from the stand.
The show concluded with other fan-favorites such as "Stereo Hearts" and "Ass Back Home."
Gym Class Heroes put on an awesome show and reminded everyone that Oneonta and upstate New York are great places to be, filled with great friends and opportunity. Sometimes it may seem a bit secluded, but their presence made it feel the opposite. Gym Class Heroes helped to make it a successful homecoming and Halloween weekend, and provided some welcome entertainment and an exciting night for all involved.