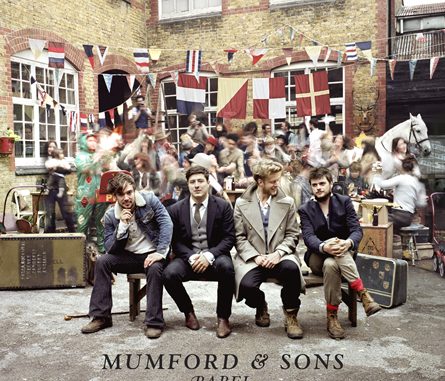 Although the extraordinary success of Mumford & Sons' 2009 debut didn't come right away, "Sigh No More" provided the English folkies with one of the biggest entrances into the spotlight in recent years. Led mainly by instantly recognizable and addictive singles such as "Little Lion Man" and "The Cave," these guys brought back the banjo in popular music which became their trademark sound. A 2011 Grammys performance with Bob Dylan furthered the band's popularity, and in turn, certified the album as 2x Platinum. Needless to say, Mumford & Sons had a lot of pressure to follow up "Sigh No More" with something that would solidify them as prominent leaders in the current folk revival.
"Babel" certainly does just that. The band's second album is filled to the brim with big, bold songs of life and love that sound written with live performance in mind. It's no wonder that the majority of "Babel" was written and recorded while Mumford & Sons were on tour. The influence of the road, their success, and the audience's love seeps through almost every song on the album. It's apparent that they were trying to top themselves by seeing just how massive a chorus they could write and how vivid a banjo melody could be.
That's not to say that "Babel" sounds much different than "Sigh No More," because it really doesn't at all, but the soaring first single "I Will Wait" is the biggest song they've ever done. In addition, the title track starts the album on a very high note with a catchy melody and plenty of conviction in Marcus Mumford's voice that sets the tone for the rest of "Babel." But what really stands out is how good the album sounds as a whole, particularly the second half. If there's anything that proves growth over the course of the past three years, it's that even though the album wasn't recorded all in one session, it sounds best when played altogether. Also, the increased presence of piano on tracks like the powerful "Hopeless Wanderer" and electric guitar in the epic climax of the album highlight "Below My Feet" further shows that these guys are trying some new things, even if they aren't as evident as necessary.
It's true, "Babel" sounds more like a sequel than an innovation, so much so that a number of these songs easily could've popped up on "Sigh No More." And while old fans will undoubtedly love it, those who wanted to see a progression in style might wind up being a little disappointed. However, songs like the irresistible "Lover of the Light" and the intimate "Reminder" make it hard not to enjoy the album. It's still a great follow up to the iconic debut even if it's a safe one, too. To those who didn't like the first record, this probably won't change your mind, but to those who did, here are some new Mumford & Sons classics.
Key Tracks: "Lover of the Light," "Below My Feet," "I Will Wait"
Grade: B