Rich Mollin, Contributing Writer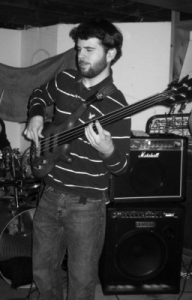 Last week we lost a fine musician and a great member of the Oneonta community, Gregg Rickards.
In his four years as a student here, Gregg challenged himself with the most demanding classes and a rigorous major, as well as performing in as many ensembles as he could squeeze into his 18 hour daily schedule. He also found time to form his own performance groups and cultivate strong friendships throughout his time. I was deeply fortunate to have spent eight semesters in study of the Double Bass with Gregg. It was a joy we shared and it was my pleasure to see him grow as a musician.
I am deeply saddened that I will not be able to hear of all the great musical adventures that were sure to come his way, and I will no longer hear him laugh at my stupid stories. He will instead be remembered by his unwillingness to compromise his time here at Oneonta and never shrinking from the tasks required in the pursuit of greatness. In this sense, he achieved the greatness we can all learn from in his bravery and urgency.
My deepest condolences to his family and friends who will all miss him terribly.