Monica Rosenberg, Staff Writer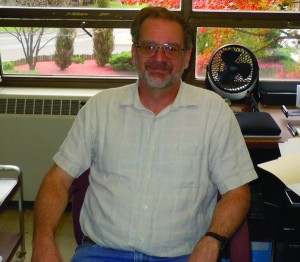 Growing up in Bellport, New York, Dr. John H. Relethford never anticipated affecting the lives of so many students in Oneonta. Relethford attended Suffolk Community College for two years and graduated with an Associate's degree in Liberal Arts. He then transferred to SUNY Albany with plans to major in mathematics and minor in anthropology, but he was unsure of what was to come next. He was not completely aware of his passion just yet.
While at Albany, Relethford became involved in more anthropology classes and started to develop a love for the field. After finishing undergraduate studies, Relethford decided to remain at Albany and go on to graduate school. With much hard work and persistence, Dr. Relethford then finished his doctoral degree. Throughout his higher education, he was able to deepen his love for anthropology, mixing both natural and social sciences.
Now, Dr. Relethford is in his 31st year of teaching at Oneonta. Each day he works with hundreds of students, teaching in classes that vary in both size and topic. His classes range from over a hundred learners to under twenty. He teaches biological anthropology, paleoanthropology and race genetics and variation.
When discussing his workload, Relethford touched on how lucky he is to have a job he enjoys. Before working at Oneonta, he did have other jobs. When he was younger, Relethford worked at a pet store, a job from which he has many great stories. Additionally, he worked in a registrar's office, and was a scientific researcher for the NYS Department of Health. However, teaching college students is what Relethford loves to do.
When discussing why he loves his job, Relethford stated, "I enjoy talking; just like we are doing now. I enjoy explaining things to people." Not long after Relethford became a professor, he also had the opportunity to write a textbook. Getting involved in book writing from a survey, he was requested to write his own. Relethford did not completely consider the request at first, but in 1986 he was asked to write a proposal. By 1990 the first edition of "The Human Species" had come out and was being used in Relethford's classes.
It's safe to say that Relethford has been a successful man. He has additionally helped co-write another textbook and has other self-written textbooks as well. While being influential to many, he has won multiple awards and titles. Dr. Relethford is the recipient of the Chancellor's Award for Excellence in Teaching for 1994-1995 and he was the inaugural winner of the SUNY Oneonta Susan Sutton Smith Prize for Academic Excellence in 1995.
Now, Relethford has an eighth edition out for his textbook "The Human Species" and has recently finished his ninth edition to add to the collection. That being said, this work does not get accomplished on its own; Relethford is often in work mode, but truly enjoys it. When he is not spending his leisure time swimming, biking or reading comic books, Dr. John Relethford enjoys researching and working to better his skill.
Relethford loves teaching anthropology and wants students to become more aware of the class. He stated, "Who we are and where do we come from is explained. There is proof and evidence of evolution."