Katrina Steier, Managing Editor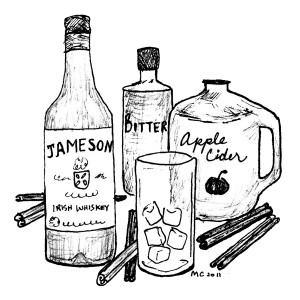 As the seasons change so do our tastes in beverages. The ambrosial smells of pumpkins, apples and leaves pervade the air and we instantly crave the equally aromatic scent of alcohol. We crave to drink it too of course. Given that, nothing is more befitting for the crisp weather, but a whiskey cocktail called the "Autumn Wind."
You will require:
• 1 oz Jameson Irish whiskey( or really any whiskey, but in the spirit of holidays and spending obscene amounts of money, get something nice)
• 1 oz Hiram Walker Original Cinnamon Schnapps( A cinnamon stick could work too, it just means less alcohol however)
• 2 dashes Angostura bitters
• 3 oz decent quality apple cider. Do not get store brand bullshit, please. Go to Annuttos on Main Street. It's cheap, delicious and they have heavenly cider donuts.
Preparation:
• In a double rocks glass (also known as a bucket), add the first three ingredients.
• Add ice.
• Pour apple cider over the ice. Stir briefly to blend. Serve. Happy Fall! (If you drink too many of these, you will fall, so use discretion or make sure you are near a pile of leaves).