Ren Padilla, Staff Writer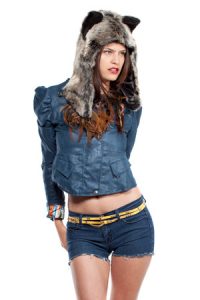 Dare to go fur-ther with your fashion style? The most popular trend this fall/winter is fur. Can you believe it? It's everywhere! Don't worry PETA fans; I'm a full supporter of faux fur and so is designer Stella McCartney. She is after all, the daughter of Linda and Paul McCartney of The Beatles. Linda McCartney, an animal rights activist, grew up as a vegetarian and vowed never to use leather or fur material. She is a strong supporter of PETA.
When someone says fur, I automatically think of vintage long fur coats from the 1940s. It seems, however, that fur over time has evolved into much more than just long coats. Instead of fur taking over your whole outfit, it can be used for decorative purposes. Anything from fur vests and boots to hand warmers, leg warmers and coin purses. You name it, it has fur!
My secret obsession this fall are fur hats called Spirit Hoods, originating in Los Angeles, California, makes faux fur hats that genuinely look like the animals they are trying to portray. There are different styles of this hat: one is the short version with the ears on top of it in the style of a trapper hat (a style worn by pilots in WWII also known as aviator, or ear flap hats) and another is similar but instead of the hat just stopping at your ears like the trapper hat, it continues down to about hip level, almost as if to represent the animal's legs. At the bottom, there are pockets to stick your hands in to keep warm and on the insides of those pockets is a decorative paw print. The longer style of this hat can also be used as a scarf to keep your neck warm. A third version that the Spirit Hoods come in is a shawl that drapes over the shoulders. Spirit Hoods come in all different types of animals such as pandas, wolves, snow leopards, hawks, owls, grizzly bears and even skunks.
This company also has a logo on some of the Spirit Hoods called Pro Blue. "We believe in inspiring positive change, and the truth is we can all help, this is why we have created Pro Blue!" is seen on the Spirit Hoods website. Every time you purchase a Spirit Hood with the Pro Blue logo, 10 percent of the net profits go to a non-profit organization to help that particular "spirit" animal such as Polar Bears International, Snow Leopard Conservancy, Wolf Hollow or Pandas International. Although these hats are on the costly side, they are worth it. They are a warm, realistic option without hurting animals and they are just down-right adorable!
Recently, there have been similar versions of the Spirit Hoods called Critter Hats. They are being sold in stores such as Clarie's and J.C. Penney's. Although they are surely not the same, they are just as cute and very affordable. Whether it be Spirit Hoods or Critter Hats, both certainly make a bold statement for this fall and winter.