Tim Lavis, News Editor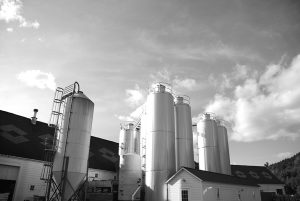 Brewery Ommegang, which is owned by Duvel, is known for crafting complex Belgian-style ales, including six year-round brews and four specialty beers per year. The brewery, located outside of Cooperstown (about a 25 minute drive from SUNY Oneonta), sports a cafe with a selection of Ommegang and Duvel-family brews on tap and a brewery store stuffed to the hilt with Ommegang brews and paraphernalia. The brewery also offers colorful tours and worthwhile tastings each day of the week. Brewery Ommegang's beers won prestige in the bi-yearly World Beer Cup, the largest beer-judging event in the world. In 2010, Ommegang Abbey Ale earned its first gold medal, while the brewery's Witte and Biere de Mars received the silver in their respective categories.
Larry Bennett, a Public Relations and Creative Services official for Ommegang, gave The State Times a preview of their upcoming specialty beers for the end of 2011 and the first half of 2012. For a third consecutive year, Ommegang will release Adoration, a hefty winter ale that follows in the Belgian tradition of highly-spiced, high alcohol winter ales. In October, the brewery will begin work on what Bennett described as a "cherry chocolate porter," which will begin distribution in December and January. Although Brewery Ommegang has already begun work on its second quarter beer for 2012 plans are still vague, Bennett commented that "[the beer] is not nailed down yet. It's looking like its going to be a black wheat beer." Bennett went on to comment that the brewery's second quarter beer is still in testing.
Ommegang's current specialty beer, which made its entrance in early August, is a strong Belgian-style fruit beer dubbed Aphrodite after the goddess of love in Greek mythology. Bennett describes Aphrodite as being inspired by traditional Belgian fruit ales. He continues, stating: "[Ommegang] wanted to do something different." At a stiff but palatable 8.9 percent alcohol by volume (ABV) and a flavor profile that is difficult to pin down, Aphrodite distinguishes itself from the crowd in a season marked by an overabundance of seemingly redundant fruit-inspired beer.
Sampling Aphrodite, I was first struck by its considerable, champagne-like carbonation, which produced a pinkish, airy head. The color of the beer's body resembles Hawaiian Punch. It gives an aroma not unlike a pilsner with undertones of fruit. In taste, Aphrodite surprises with its extraordinary fruitiness, which, paired with its intense carbonation produces a flavor profile that this reviewer would not normally associate with beer. The ale's initial citrus bite gives way to a fruit-punch body, heavy in raspberry and peach. Biscuity notes reminiscent of walnut and almond balance out the taste and prepare the drinker for Aphrodite's sour finish: heavy in raspberry with suggestions of honey. Overall Aphrodite is surprisingly dry, and while the beer is by no means hoppy, it is an overtly tart drink. This fruity, highly carbonated profile was not to my taste, but it is undeniably a complex and well-crafted brew. Those seeking a fruit beer with a well balanced, decidedly sour flavor will find a glass of Aphrodite to be a bold, unique experience.
Ommegang Abbey Ale, a more traditional brew, is well suited for weathering Oneonta's notorious and fast approaching cold season. One of Brewery Ommegang's six year-round brews, this Dubbel is a strong, Trappist-inspired brown ale with funky and unexpected undertones. At a hearty 8.5 percent ABV, it is not a session beer. Nevertheless, in Ommegang's trademark 750ml bottles, Abbey Ale is an exquisite brew to share on a blustery Oneonta afternoon.
Sampling Ommegang Abbey Ale at a range of temperatures, I concluded that this is not a beer to be drunk ice-cold: the ale is best served in the neighborhood of ten degrees Celsius (that's about 50 Fahrenheit). Doing so will give the taster the fullest range of the Dubbel's diverse offerings. This time of year, I would suggest leaving it on an open-air porch, or by the back door for a few hours or until it adjusts to the outside temperature.
Poured judiciously, the dark, reddish-brown Ommegang Abbey Ale should produce a thick, golden head. The latter is milky in texture and the whole will give off a distinctly spicy, clove-heavy aroma with a tinge of fig. The Abbey Ale is noticeably hoppy, but not overpowering. It's mildly sweet start produces slight citrus notes, which are quickly balanced out by a full, rich body. As the ale's aroma suggests, the flavor is heavy in cloves producing an overt, hearty spiciness with extraordinarily faint but discernable fruit notes. This beer's finish is mildly sweet and caramel-heavy. Commented Ommegang drinker August Johnson: "[Ommegang Abbey Ale] is the kind of beer you could serve your father."