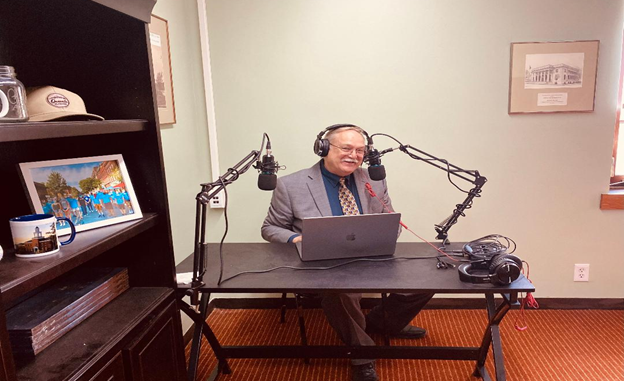 Victoria Smith, Contributing Writer |
The Hill City Gambit will be a fun podcast that is willing to touch on hard subjects within the community with biweekly episodes starting April 14th. This podcast has a goal of answering one large question by the end of the series: "Will Oneonta be successful in its recruitment?". Mayor Mark Drnek plans to follow through with his original promise to bring new life and people to this small community. Every episode will grab your attention, boost your knowledge about our beautiful city, and make you ask, "What happens next?".
Launching a brand-new podcast on April 14th will spread the love and attract more neighbors to wonderful Oneonta, as Drnek hosts The Hill City Gambit. The anticipation is building for the first podcast episode … "Will Oneonta be successful in its recruitment?" asks Mayor Mark Drnek via his State of the City address.
"To buck the trend of the region and the state… and be a beacon to those who want a good life, for themselves and their families," says Drnek. "A place that exemplifies the very definition of a welcoming community. We are that."
The Oneonta community is beautiful and welcoming. Downtown Main Street thrives with current life and businesses yet yearns for even more opportunities for new lives, businesses, and people to add to the atmosphere of Oneonta. Mayor Drnek wants to achieve growth in the Oneonta community by inviting and attracting 1,000 new neighbors to the wonderful city.
"It's the power of our community," insists Drnek. "The prime objective of my first year has been to foster that sense of community, to create opportunities for collaboration, to enlist many voices, and offer opportunity to anyone with a desire to help."
How will you know what's happening in Oneonta? How will you know how our new neighbors are doing and how the city is growing? When you tune in to The Hill City Gambit, your curiosity will peak and your questions about Oneonta will be answered.
"For these new residents, it's going to be a better experience than it's been for newcomers in a while… The bond that will keep them here will be a shared sense of belonging to a neighborhood."
About Oneonta
Mayor Mark Drnek is in year two of his first term as Oneonta's mayor, proceeding with former Mayor Gary Herzig. Oneonta NY, a city located in Otsego County, was established as a city in 1908. This community was originally known as McDonald's Mills, Bridge, and Milfordville but is now well known as Oneonta, the City of the Hills. The population has held steady at approximately 13,000 residents, fluctuating humbly since its establishment in 1908. Now this welcoming community strives to maintain and increase the quality of life for an anticipated 1,000 new neighbors to be welcomed by a fun, collaborative, and powerful community ready with opportunities.
For more information about Oneonta, visit www.oneonta.ny.us or follow the city on Facebook @City of Oneonta – Government. To learn more about The Hill City Gambit Podcast and never miss an update, follow us on Instagram @thehillcitygambit or contact Mayor Mark Drnek for media release questions at 1 (607) – 431 – 1325.