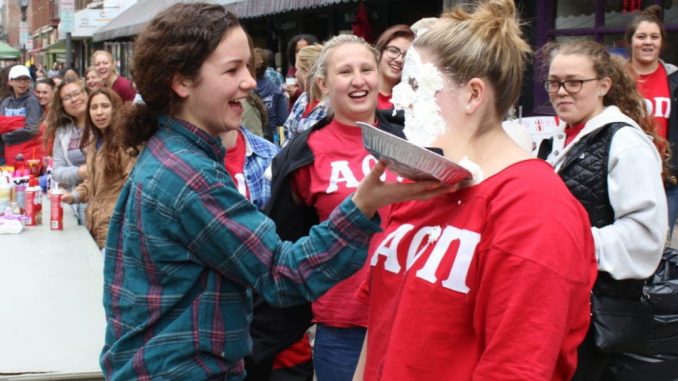 Christopher Milazzo, Staff Writer |
On Saturday, April 29th, the town of Oneonta came together to celebrate the OH-Fest fair. Crowds of people covered Main Street where different activities took place like carnival games, a special appearance by Red the Dragon, and a concert with student acts headlining. Many local businesses like Stoneonta, Magic Box, and Shakedown Street were also open and had many customers. The majority of Main Street was closed for most of the day to let people enjoy the festival. While the weather was not so great with rain showers happening most of the day, people still enjoyed the fair and the things it had to offer.
SUNY Oneonta had a booth set up where you could take a picture with Red the Dragon, or on a giant inflatable chair that had SUNY Oneonta logos all over it. They were also handing out SUNY Oneonta memorabilia, like stickers and magnets. Right next to the SUNY Oneonta booth, there was a Hartwick College booth where they were giving out free OH-Fest T-shirts and other goods. One thing I love about events in Oneonta that take place off-campus is that everyone is welcome to join in on the fun. It's not exclusive to just students of SUNY Oneonta, it's available to Oneonta locals, Hartwick College students, and anyone else that is interested in coming. It felt like a celebration of Oneonta culture, and reminded everyone of how inviting the town can be.
Past the college booths, there was a giant stage set-up where local artists and student acts were performing. Everyone was enjoying the live music with lots of people dancing and singing along. Down Main Street, more carnival games were set up, like ring toss, and hit the target. Players were rewarded with prizes like hats and slap bracelets for winning the games.
Some other fun things to note were the open businesses. The Red Jug Pub was open all day and had drink specials. They also released a new T-shirt that was available for purchase. The Jug was packed every time I walked past it, and everyone there seemed to be having a good time. The Oneonta staple, Stoneonta Clothing, was open for the duration of the fair and was packed with customers. While they didn't release any new limited-edition merchandise for the OH-Fest weekend, Stoneonta remained one of the most popular shops open. Stoneonta has been vastly known for supporting the Oneonta community and all its businesses. Recently on their Instagram, they've been posting pictures of the owners of local businesses wearing Stoneonta clothes.
Another thing to mention is the tables set up where people could buy things from local vendors. Street fairs like this are important for local vendors, as it helps them expand their business and build a wider audience.
The OH-Fest Street Fair was a big success, leaving people with fun memories to last and giving local businesses time to shine.